Best represented musically by the large remaining cache of E.T. Paull publications,
the A. Hoen lithography house hosted some of the finest craftsmen of the trade, adept not only at superb illustrations and mapwork, but the demanding process of color separation onto multiple stones as well. Unfortunately for the sake of historic clarification or recognition, virtually all who worked for Hoen were "company men" whose names have not made it to print, unless they were cleverly concealed within the drawings somewhere.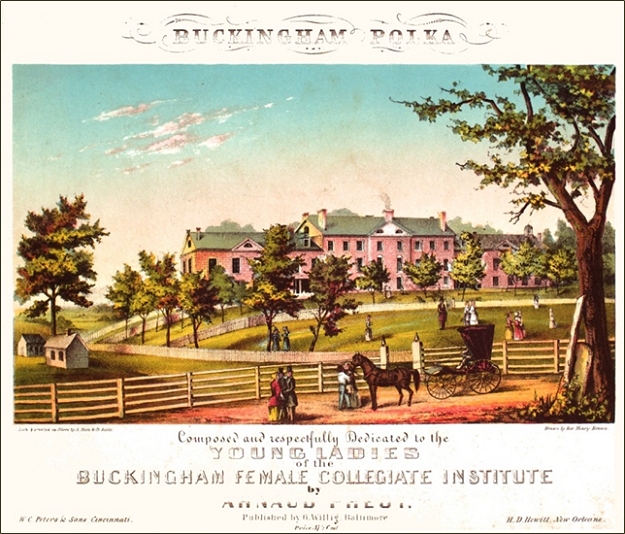 There was also a very coherent and uniform style with most of the Hoen covers and posters, which would make it even harder to distinguish the work of any individual artist. There are employee names throughout the years associated with the firm, but their duties are not clearly known.
The firm was initially started by German immigrant Edward Weber and his nephew Ferdinand August Hoen in Baltimore, Maryland in 1835 as Edward Weber & Company. They printed the first color cards ever produced in the United States and the first lithographic maps printed in the country as well in 1842 for the Fremont Reports, connected to the United States Congressional Reports. August took the firm over with his brother Ernest Hoen and cousin Henry Hoen in 1848 upon Weber's death. Hoen's new firm of A. Hoen & Company not only provided some very fine monochrome and color covers and litho-photography for local Baltimore publishers, but for firms in Washington, D.C. and as far off as the Carolinas.
Some of the artist's names from that era, notably Clayton (a prolific Baltimore engraver), Gillingham, Webb, Duffy and W. French, have been found on some covers. In the 1860s August Hoen patented what he termed the Lithocaustic method of lithography which allowed for easier viewing of the etching in the stone while it was in progress, making the shading of gradients and halftones a much faster process. He prominently displayed a critically acclaimed print from this process in the 1876 Centennial Exposition held in Philadelphia, Pennsylvania. From 1860 to 1883 August was awarded several patents for processes intended to create improved halftone prints with both monochromatic and multi-stone lithography.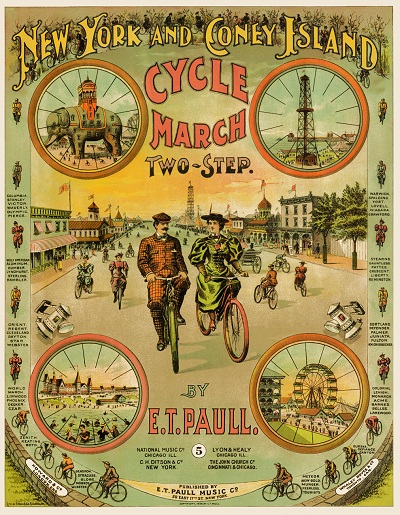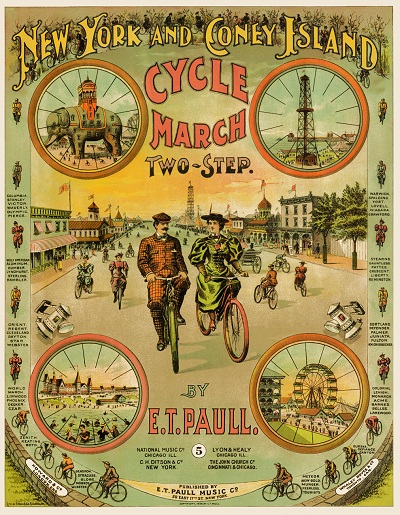 Henry worked with the Baltimore firm until his death in 1893. Alfred Tennyson Hoen (b. 1873), the youngest of the six sons and three daughters of the founder, ran the A. Hoen lithography firm in Baltimore with older brother Albert Berthold Hoen throughout the early 20th century. August Hoen died in 1886, before the reign of E.T. Paull, but certainly with a well-cemented reputation for top quality prints, very notably on some beautiful cigar boxes. Albert and Alfred were also important contributors of cartography prints done for the U.S. Geological Survey, and later for the Geographical review. Alfred would continue his father's work in creating improvements in the process, particularly in the use of varying grades of lithographic limestone and similar sources. Albert rendered many improvements in setting uniform color standards. The Baltimore branch also produced a few mono-lithographic music sheets in the 1870s and 1880s.
A branch of A. Hoen eventually surfaced in Richmond, Virginia, run mostly by one of August's sons, Ernest August Hoen, who was named after his uncle, assisted by his younger cousin, Ernest's son Edward Weber Hoen, named after the founder. Ernest was a fine musician and music lover who attended Loyola College. August had opened a branch in Richmond, Virginia around the time of the Civil War, and one of their first contracts was to print confederate money. After learning the printing business with his father, he moved to Richmond became the manager in the early 1880s, but it is hard to discern if any of the Baltimore artists followed. Some sources cite 1876 as the year he moved, but Ernest is still shown as working for his father or uncle in Baltimore at the time of the 1880 census, and still living in Baltimore for the 1887 city directory.
In the newer Richmond plant the quality of inks and paper stock, as well as the multi-layer lithography process itself saw great advances, to the point where most Hoen-produced covers and cigar boxes from the 1890s forward still retain their original hues after more than a century. Whereas most sheet music publishers used from one to three colors in simple patterns for their covers, E.T. Paull was looking for something more, and settled on the five color multi-layer process utilized by Hoen, instantly setting his works apart visually and thus creating sales for what the consumer viewed as both music and art. Oldest sibling Adolph G. Hoen eventually moved to Richmond, but his involvement in the firm may be peripheral, as he was listed as a physician in 1910.
The works by the Hoen firm are usually well-marked so their parentage is clear, whether it be maps, cigar boxes, business stationary, posters, or their beautiful sheet music covers over a period of seven-plus decades. Focusing on the era of E.T. Paull, they tended towards not only a high modicum of realism (with very few caricatures), but a level of detail in the backgrounds that most cover artists ignored.
The A. Hoen Factory in Richmond, Virginia around 1903.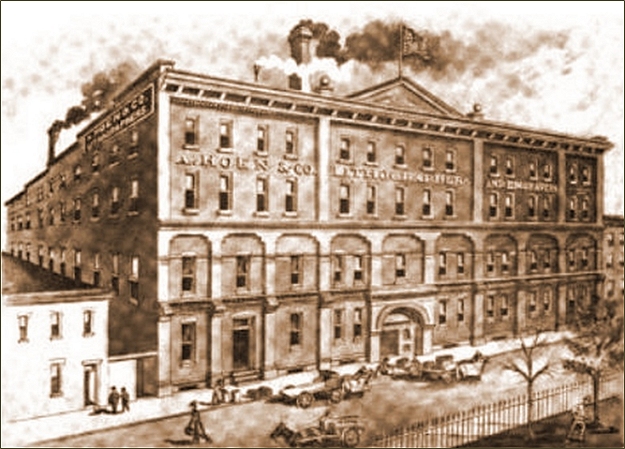 This may well have been at the insistence of Paull, who most certainly knew what he wanted.
The Baltimore branch of Hoen had been creating lithographic covers since 1848 and chromolithographic sheet music covers since 1851, mostly serving a wide range of Baltimore and Philadelphia music publishers. Among their most frequent Baltimore clients were the firms of George Willig, F.D. Benteen and Henry McCaffrey. However, their sheet music cover output appears to have ended in the mid-1880s.
The Richmond branch of A. Hoen, on the other hand, had no history of providing sheet music cover art before they were contracted for The Chariot Race or Ben Hur March in 1894 by E.T. Paull. It appears that his was the only sheet music they printed covers for (in most cases, the music plates themselves were created elsewhere), it is likely that Paull found some way to convince them that the visibility provided by his music might bring the firm more work at the very least. They were also possibly the only company in Richmond, much less Virginia, capable of the level of artistry he was looking for, with their enormous building covering a full city block, indicating stability and growth. At one point in the mid-1910s there were between 125 and 300 employees [reports vary] working at the Richmond branch.
Whether it was a battle scene or some natural catastrophe, the vivid hues the Hoen firm achieved, often focusing on reds, provided great accent to even the smallest of details such as lava ash or a swinging sword. Even though it is common to display framed sheet music today, it was an honor applied largely to the Hoen works from the Paull catalog during the early 20th century. As Paull engaged the company even after he had moved to New York in 1896, with Hoen covers appearing into the late 1910s, there may be some possibility that some of the production was also done in the Baltimore branch of the firm, but this is difficult to verify as there were no distinct codes or indicators to identify this.
Ernest was an active member of Richmond society and a member of the Wednesday Club as well as the Philharmonic Orchestra of the Westmoreland Club. He was married to Baltimore native Clara Byrne and had two sons, Hudson P. Hoen and Dr. Walter Scott Hoen, a United States Navy surgeon in the 1910s. Ernest had his own printing patent listed in 1907, which consisted of a unique method for printing dispensable tickets. His health started to fail in 1913 and he retreated to Atlantic City, New Jersey in the spring of 1914 to try and recover. It was there that pneumonia took his life in April 1914. His son, Walter, died in July 1918 in Port Au Prince, Haiti, while on Naval duty.
The Richmond branch continued into the early 1930s under Edward Hoen, concentrating on the envelope business. He finally passed in 1941 at age 78. Both of the Hoens are buried at Hollywood Cemetery in Richmond, Virginia. Albert Hoen continued to run the Baltimore office as president of the firm until his death on May 1, 1956 at age 93. The original Baltimore office of the Hoen firm continued in the lithography and printing business until around 1981 when it dissolved after filing for bankruptcy.