Arthur Schutt
was an extraordinary talent who frankly did not get enough spotlight in proportion to that talent, but he was doing what he loved, so in the end it comes out OK for him even if we feel deprived of some of the possibilities. He was born in Reading, Pennsylvania to German immigrant
John G.L. Schutt
and his Pennsylvanian wife
Ella Ray
just as ragtime was gearing up. Arthur had a younger brother,
Allen Ray
(1904), and three older step-siblings from John's first two marriages,
Carrie B.
(1890),
Gertrude J.
(1892) and
Anton G.
(10/16/1894). He was taught the piano early on by his father John, a musician and music teacher, and became so adept at it that he became a movie pianist before he was even 13, around the time his father died.
The Georgians around 1923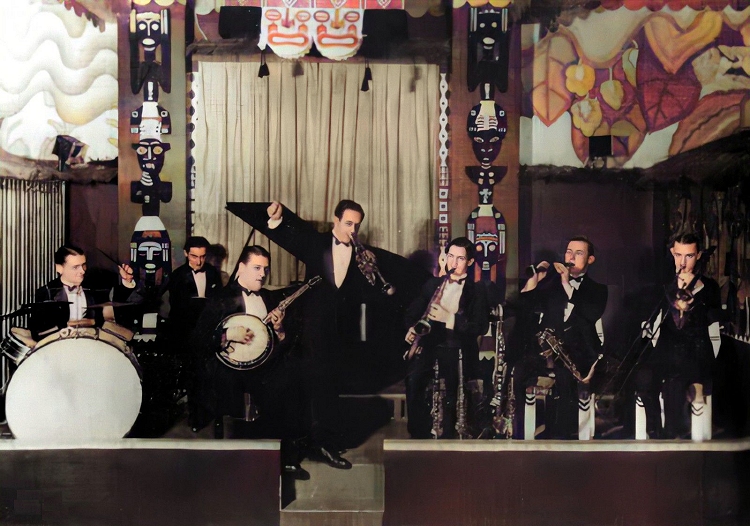 His brilliant and original movie interpretations were heard by fellow Pennsylvanian and bandleader
Paul Specht
a few years later, and Schutt was offered a position in Specht's band, where he stayed for six years.
During this period - 1918 to 1924 - Arthur was not only recording but also writing the occasional novelty tune. He also worked with a small subset of the Specht group called The Georgians which took on some more challenging ensemble numbers. In spite of all the travel, the 1920 census still lists him living with his mother, sister and two brothers in Reading City, Pennsylvania. Arthur made two trips to London in 1923 with the organization. On his second visit he was listed on the passenger manifest as Vithus Schutt, which may have been an error in transcription between the written and typed copy. Suggestions that it was an alternate name are weak at best. It also was one of the early appearances of his childhood sweetheart wife Virginia M. Schlosser, who he had recently wed.
While in London in May of 1923 Schutt recorded four novelty solos including Roy Bargy's
Pianoflage
, Phil Ohman's
Try and Play It
, and his own pieces
Teasin' the Ivories
and his signature
Ghost of the Piano
. While not entirely true, his obituary suggested that his early recording of
All Muddled Up
with Specht was one of the first improvised piano solos ever recorded. In spite of the terrific result of these sides he still opted for the steady employment of band life. After his time with Specht, Arthur worked with the bands of
Roger Wolfe Khan
and
Don Voorhees
.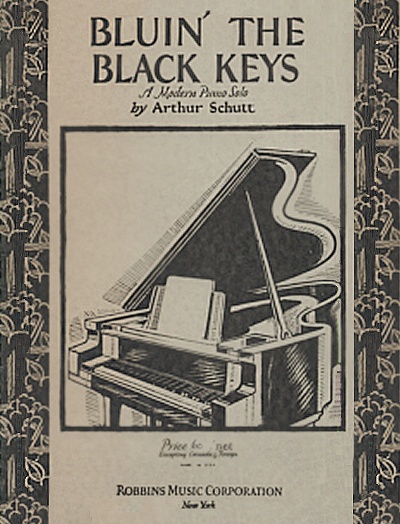 At some point in either 1922 or 1923, Schutt also recorded some piano rolls for
Arto Word Rolls
. It was in this period that Arthur published his most challenging work,
Bluin' the Black Keys
, which vexes pianists into the 21st Century.
Delirium
, from 1927, was also recorded many times over the next decade by various artists and orchestras.
In 1926 after a brief break, Schutt had stints with trumpeter Red Nichols and a number of assembled groups including core members from the Nichols band, usually called The Charleston Chasers for the purpose of studio sides. Other members at times included Benny Goodman (with whom he co-composed Georgia Jubilee), Jimmy Dorsey and Tommy Dorsey, plus one 1931 session with Charlie Teagarden, Jack Teagarden, Glenn Miller and Gene Krupa, so he was in good company. Schutt also recorded for Okeh/Parlophone Records under the pseudonym of Cyril Merrivale.
Somewhere along the line Arthur, sometimes called Artie and nicknamed "The Baron," started spending more time as a studio pianist than with traveling orchestras, and usually served as session leader and arranger for the various studio recordings. In spite of his brilliant interpretations, his recordings did not influence other pianists the way those by Billy Mayerl or Zez Confrey did. Notices of him playing everything from classics to novelty live on the radio start to appear in New York papers in 1929, including with a group called The Troubadours and a saxophone ensemble derived from the Ingram Shavers. There were regular appearances throughout 1931 on the airwaves, primarily on the NBC network. Schutt was frequently called upon to perform George Gershwin's challenging Rhapsody in Blue with radio orchestras.
The 1930 census shows Arthur and Virginia living in Manhattan with Arthur listed as a musician. Their son Robert had been added to the family around 1926, and Virginia's parents were residing with them. Starting in the early 1930's, Schutt performed live with various incarnations of his own band in New York, staying more in the novelty or hot piano genre than the coming swing music. His group did a number of sides for the Crown and Okeh labels, many of which were re-released on Odeon and Parlophone records, all affiliates of giant Columbia Records. Another set of recordings was done with various incarnations of the Adrian Schubert Dance Orchestra (a house musical director for the Imperial, Banner, Crown and Apex labels) between 1928 and 1933, but Schutt's presence is hard to notice. After Artie cut his last two studio piano solo sides in 1934, he recorded only in larger groups.
In 1934 the Schutts had moved to Hollywood and Arthur spent much of the next two and a half decades working in recording studios. Even though he was sought out often for his solid work, he was rarely featured in such session. In 1939 he spent a few months playing with
Bud Freeman's
group. He was on the music staff doing and some film soundtrack work with MGM from 1934 to 1949, but rarely in the jazz idiom where he had showed so much promise. There are some exceptions, however. In 1936 Arthur did some live radio broadcasts of piano duets with
Peggy Keenan
. According to a notice in the
Los Angeles Times
of August 23, 1936,
Arthur Schutt with Peggy Keenan in 1936.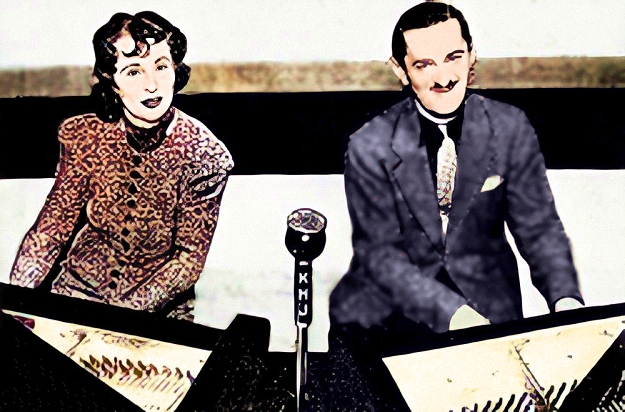 "These veteran performers before the microphone are new to listeners as a piano duo. Miss Keenan was formerly a colleague of Sandra Phillips when as 'two pianistic redheads' they were featured on Tony Wons's program. Schutt, famed as an arranger, is now turning out some brilliant work for Rupert Hughes's 'Caravan' program." They worked together for a short while on radio station KHJ. For the 1940 census, taken in Hollywood, California, Schutt was now living with his second wife,
Catherine E. Schutt
from Minnesota, with Arthur listed as a musician in the entertainment industry.
Then in 1942 he recorded a series of popular songs and medleys from previous decades arranged for two pianos with
Marlene Fingerle
. These were released in a pair of multiple disc sets loosely centered around songs of 1926 and 1942, and are true treasures that readily engage the listener. The pair also revisited some classics, such as
Maurice Ravel's
famed
Bolero
. Some sources claim they recorded beyond 1942, but no definitive material has surfaced. This likely reflects the release of their recordings in sets in 1948. Two 16" broadcast transcription discs for the
Keystone Broadcasting System
(KBS) radio network were also recorded, including a rare performance by the novelty performer of a Chopin Polonaise and Gershwin's
Second Piano Prelude
, and a set of duets with composer and fellow Pennsylvanian, also from Reading,
Paul Mertz
.
Arthur frequently performed in concerts with the Symphony Orchestra of Los Angeles as well, many times featured as a soloist or with an orchestra at the Hollywood Bowl. George Gershwin and Férde Grofé were among the composers whose works he visited often in these concerts, with a continued emphasis on the major works such as Rhapsody in Blue. He was listed frequently in the Los Angeles times from the early 1940s on, appearing with any number of other fine pianists, including Earl Brent, Walter Ruick and Artur Rubinstein.
While Schutt was rarely if ever directly involved in films during his tenure in Los Angeles, he finally did make it into one somehow. In the summer of 1959 the movie The Five Pennies was released from the independent company Dena Productions. Starring Danny Kaye as the band's leader Red Nichols and Louis Armstrong as himself, jazz pianist and composer Bobby Troup (Route 66) played the part of Schutt on screen. It was difficult to determine if Arthur played for any of the soundtrack, but he may have already left town by that time.
The Schutts moved to San Francisco sometime in the late 1950s, home to some of the great jazz revival bands of that time. There Arthur worked literally until the day he died for a lunch crowd in the financial district. Some July 1961 notices in the Los Angeles Times show him playing intermissions at Jim's Roaring 20s, a Los Angeles jazz club. A few final recordings of Schutt's solo work were made in the early 1960s at private parties, largely of 1920s novelties and standards. Arthur Schutt died at age 62 after a long illness. He had been cared for in the end by Dr. Benny Zeitlin, who was also a jazz pianist in the 1920s and 1930s. Schutt's music was thankfully rediscovered in compilations made in the 1980s and 1990s, though he is more remembered by performing pianists for his challenging scores than for his remarkable playing.