George Clifford Adams is another one of those composers about who virtually nothing has been known. The research for this entry did not turn up much, but did yield more than virtually nothing. Perhaps it will lead to even more at some point. Clifford was born in Dayton, Ohio, to Ambrose Vallendingham Adams and Nancy "Annie" Ryan in late 1887. He had two younger siblings, Brainard (9/1891) and Sarah Ruth (4/1895). As of the 1900 census, Ambrose was a machine operator. Virtually nothing else could be found on George's upbringing. However, a 1905 Dayton directory showed him listed there as a pianist. He was shown as a clerk in the 1906 and 1907 Dayton directories.
In his early 20s George became an itinerant pianist, traveling the country in small shows and at least one Chautaqua series. This might explain how his first composition,
Ink Splotch Rag
, ended up getting published in Omaha, Nebraska by the
A. Hospe Company
.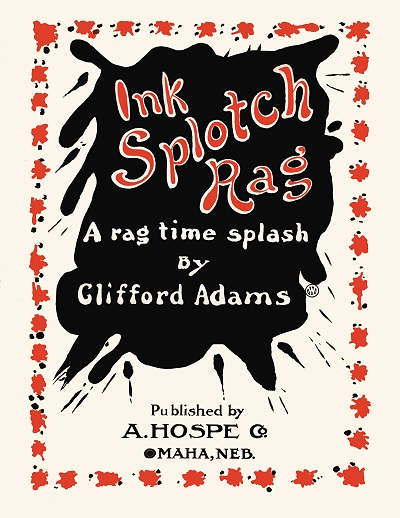 Copies of this piece are quite rare, so it likely received only limited circulation. It is an eclectic rag with some novel ideas, with some passages that would later be reflected in other piano rags of the Ohio Valley and Missouri. He copyrighted and self-published a similar two-step,
Patsy Boliver
, and a song,
Loving You
, in 1910 from Bremerton, Washington. All of his musical compositions were copyrighted and printed as Clifford Adams, and he indeed uses that name in the 1910 census taken in Bremerton. His occupation was listed as theater musician, and the record shows him as having recently been married to
Edith Adams
of Oklahoma. She likely gave the enumerator the incorrect information, as even though the correct George has been confirmed as the one in Bremerton and born in Ohio, the record shows he and his parents as born in New York. All other records indicate Dayton, Ohio.
Most of the productions that Adams played for appear to have been under the radar, as his name does not appear under George or Clifford in advertising of that time, or in the music trades. He still managed to produce a new piece from time to time, the next being a two-step copyrighted from Spokane, Washington in 1914 titled Hanky-Pank. It was published in New York by M. Witmark, so saw better circulation. By the mid-1910s George and Edith were living in Chicago. His 1918 draft record shows George and his wife in Chicago, and not working, listed as an unemployed musician. The couple appears to have had no children.
While George could not be found in the 1920 census, he had moved to Los Angeles, California around that time, evidently without his wife, having likely divorced. He continued to show a divorced status into the 1940s. On a 1922 passport application it appears that George had been hired to work for a cruise line. The destinations shown for his trip on the Shinyou Maru included Japan, China, Hong Kong, India, Australia, South Africa, Argentina, Brazil, Egypt, Burma, New Zealand and the South Sea Islands. After he returned from his world trip, another Adams composition made the rounds in 1923, Frolics and Fancies, composed with Tom Clark and published by Schirmer in New York. It is probable that George relocated to New York, because that is where he was found in most subsequent records.
In the 1930 enumeration Adams was lodging at 305 97th Street in Manhattan, and listed his occupation as composer and producer. The word musician had been started, but was crossed out. There is no record available of anything he may have produced in New York, however. There is a probability that he was working in radio as his name comes up in some listings of the 1930s, largely as an announcer or host associated with theater-related talks. A couple of piano solos and a song emerged over the next dozen years, all published in New York. The 1940 census, taken across the river in Queens, NY, shows Adams as a music composer. In the late 1930s George took a job with the Associated Musicians of Greater New York Local 802, located at 1267 6th Avenue. They are shown as his point of contact on his 1942 draft record (claiming self-employment), and he is mentioned in a couple of their bulletins as having attended certain events. George was living close by at 52nd Street and Broadway, a vital musical center of New York following World War II. The trail goes cold there except for one copyrighted composition from 1955. George continued to live in New York City until his death from a heart attack at age 73. He is buried at Evergreen Cemetery in Brooklyn, New York.