David Guion (commonly pronounced guy-on) was born into a very large Texas family (five older siblings, two younger, and one deceased) when Texas was still very much the domain of cowboys, and not yet for oil and other commerce. His exposure to music early on came in part from African American servants employed by the family, and included a great body of spiritual works as well as American folk songs and cowboy tunes of Texas that were brought to him via the cowboys who worked for his father. John Isaac Guion II was listed as a lawyer in 1900 (John's father was a governor of Mississippi at one point), but was later a judge, and a long-time rancher as well. David's mother, Matilda Armour Fentress (some sources cite "Wendel Fentress" as Guion's middle names), was an accomplished singer and pianist.
With a piano and pianist in the home, it did not take long for the parents to discover young David's musical propensity at age five. So they saw to it that he received an extensive musical education. In his teens, and perhaps before, David studied in San Angelo, Texas, with future musical and literary author
Charles Finger
. Starting at 14 he attended the
Whipple Academy
in Jacksonville, Illinois, then back to Texas at the
Polytechnic College
(now Texas Wesleyan University) in Fort Worth. After the 1912 death of his primary instructor at TPC,
Wilbur MacDonald
,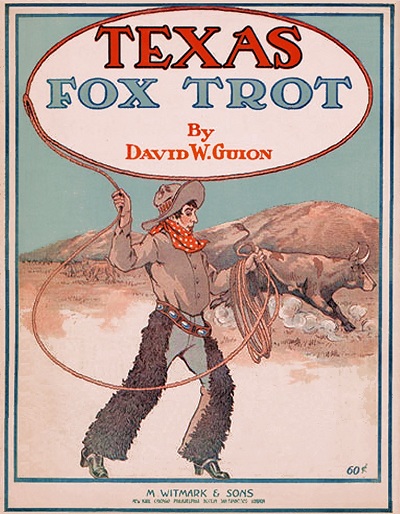 Guion departed at age 19 to study in Vienna with
Leopold Godowsky
at the
Royal Conservatory of Music
in Vienna, Austria. After a mere two years there, the political climate brought on by the beginning of The Great War (WWI) forced him to return home to Texas, where he started his musical career.
Guion's first position was teaching piano and music at the Daniel Baker College (now Howard Payne University) in Brownwood, Texas. He also worked on composition as a sideline. In spite of his classical training, he knew that selling a viable composition at that time meant working in one of the popular idioms of the time. One of David's first publications was also one of the only ones in the ragtime idiom, although many of his later arrangements had the same roots that also gave birth to ragtime. Texas Fox Trot was radically different and more advanced than virtually any Texas ragtime for 1915 when it was composed, and actually most commercial ragtime from that time. With gentle yet percussive melodies it has stood on its own for a long time, and been the subject of many recorded interpretations, including a fine piano roll by artist Muriel Pollock the year after the piece was published in 1917.
Texas Fox Trot gave David relatively quick notoriety in the music world. The Music Trade Review featured Guion and the piece in an article from November 23, 1918. "Mr. Guion is a young man who allows his music to speak for him, and that it does well. Recently Mr. Guion became inspired with the remarkable strains of what he very properly named 'The Texas Fox-Trot,' a composition published by M. Witmark & Sons that is meeting with very substantial success. 'The Texas Fox-Trot' is obviously the work of a musician, and yet it bubbles over with melody and action. It is unlike anything of its kind on the market. It shows clearly to what extent the fox-trot may be musically developed. Mr. Guion is an accomplished concert pianist as well as a graceful and original composer. His vocal numbers include some very striking songs, notably 'Embers' and 'The Ghostly Galley,' as well as an unusually interesting series of fourteen 'Darkey Spirituals,' collected and arranged by Mr. Guion with great patience and admirable results."
His next composition was a fine song.
Old Maid Blues
, which saw proper service with singer
Nora Bayes
. It was also in 1918 that Guion turned to arrangements of tunes he had learned from the servants as a boy, but now in a studied and very musical manner. The introduction to a series of
Darkey Spirituals
for voice and piano, as noted above, reads in part: "Darkey 'spirituals' are plantation-songs which had their origin for the most part in the camp-meetings and revivals of other days.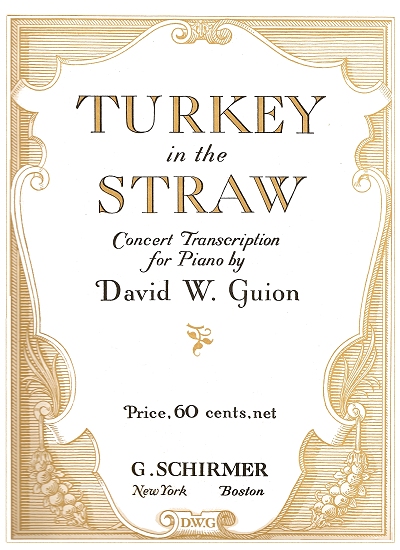 Spontaneous in their birth, they were never conceived with any direct plan or form, and not until lately have they been perpetuated in a way that enables them to appeal directly to lovers of folk-songs." It goes on to explain Guion's qualifications as having grown up with these tunes and the folklore around them. Published by the respected
G. Schirmer
Company, these soon became the standard baseline arrangements by which the tunes were known. Guion added to this library with many fine religious and spiritual tunes of his own, starting a long song-writing collaboration with
Marie Wardall
, who married in the 1920s becoming
Marie Lussi
.
Perhaps the most important early adaptation of all for Guion came in 1919 when he penned a challenging concert arrangement of the Zip Coon tune, known by fiddlers as Turkey in the Straw. In spite of a long-known ragtime arrangement by Otto Bonnell, Guion's arrangement made the tune quite popular again, and set a new standard for revitalizing older material. In a 1925 notice for a concert of his Negro spiritual arrangements in the San Antonio Express, fellow composer Percy Grainger was quoted as saying that: "David Guion is one of the greatest living composers in any country... His transcription of the popular folk song, 'Turkey in the Straw' is a kind of national anthem. His setting of it is a great cosmopolitan masterpiece worthy of rank with the Chopin Mazurkas and the Liszt Rhapsodies. Guion's work is close to the greatest classics of all time." Another quote from Musical America stated: "What Percy Grainger has done for some British and Irish folk tunes, Guion has done for this American 'Cowboys' and old fiddlers' breakdown, 'Turkey in the Straw.' David Guion is one of the cleverest composers in America today. His arrangements of Negro spirituals prove that."
In 1920 Judge John Guion died. Having been on the board of directors at A&M College (now Texas A&M University) a hall was built and named in his honor. David was still listed as living in his parent's home in Ballinger, Texas. With the freedom of the income from his composing and arranging, he started pursuing broader interests, soon teaching at Southern University and other Dallas schools. By 1922 he was the dean of the Fairmount Conservatory of Music in Wichita, Kansas. He later taught at Chicago Musical College and in Estes Park, Colorado at a school there. While in Dallas he was married for a short period to Marian Ayers of Dallas in the 1920s. Among his more interesting but logical side interests was the rodeo. He was a fine rider, winning prizes at rodeos in Colorado and at the home of rodeo and frontier celebrations, Cheyenne, Wyoming. This may have worked as a two-way enhancement with his study and release of arrangements of cowboy songs as well. Another prize was first place in a piano composition contest stage in San Antonio in 1924.
Guion rarely compromised on his arrangements. In an article in the January 2, 1926 edition of The Music Trade Review, which made note of a rare simplification of one of his piano scores, it was said first that, "Seldom does a publisher make such an important change in a song after it is achieving importance." As for the composer, they went on with his point of view: "David Guion, himself a prominent composer and masterly pianist, admits that he cannot write 'easy' things, and that he delights in finger twisting combination. So when he set Ben Gordon's dainty little 'Mis' Springtime' poem to music, he proceeded to give it a characteristically difficult piano part. It was a splendid setting, however, and the accompaniment appealed to professional pianists and accompanists as one of the chief artistic merits of the song. But when the song began to take real hold, as it did very soon after its publication, the publishers found that the accompaniment was much too difficult for the ordinary musician to manage, and that many singers who liked the number rejected it for that reason." In the end, this and a few other assorted Guion arrangements were released with a four stave accompaniment - the top two staves consisting of the original score and the bottom two with a simplified reduction.
In 1929 Guion decided to move to the center of the publishing world, New York, where he formed a stronger association with the Schirmer organization.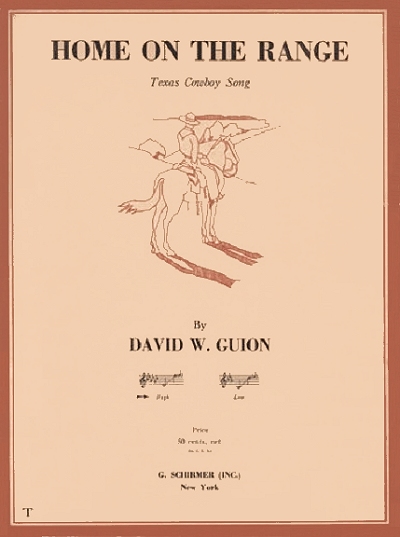 He soon found himself on stage at the Roxy Theater starring (as pianist) in a cowboy music show of his own concoction titled
Prairie Echoes
. In this show he was able to (re)introduce the public to an old cowboy piece he had first arranged in 1908 when he was but 15.
Home on the Range
quickly presented itself as a different kind of "standard" tune, easily sung and highly recognizable. It became the ultimate cowboy song almost instantly, spurring composers like
George Gershwin
(
Bidin' My Time
) and
Cole Porter
(
Don't Fence Me In
) to come up with their own cowboy songs to cash in on the vogue. Governor Franklin D. Roosevelt, later President of the U.S., proclaimed it as a favorite of his. This led to a series of radio shows in the early 1930s featuring Guion and his orchestra playing some of his fine adaptations (including an orchestration of
Texas Fox Trot
) across the U.S. via network hookups. This set in motion the era of the singing cowboys, paving the way for
Gene Autry
and
Roy Rogers
in the popular media, and providing a clearer path for groups like
Sons of the Pioneers
to get radio airplay.
During his New York period Guion was writing material of his own as well, including cowboy songs, his own spirituals, and even a folk-opera with Wardall called Suzanne, incorporating a theme of Voodoo, some elements of which were reminiscent of Scott Joplin's Treemonisha. Another important piece was Shingandi, considered to be American primitivism, and successfully performed in 1931 by Paul Whiteman with orchestrations by the esteemed Ferdé Grofé. In 1933 it got its first performance as a full ballet, choreographed by Theodore Kosloff. While in Manhattan Guion also wrote a series of clever and poignant pieces with lyricist Jessie B. Rittenhouse who had worked with years before. The stay in the Empire State was short-lived, as he moved back to Dallas in 1932.
The next productive period of the mid 1930s led to a commissioned show in 1936 called Cavalcade of Texas, part of the state's centennial, and parent of a hit tune (in Texas), My Cowboy Love Song. Later in the year Guion's beloved mother died. He was left dispirited to a degree, and did not produce a large volume work after 1936. Income from Home on the Range and other endeavors allowed him to purchase an estate in Towamensing in the Pocono Mountains of Pennsylvania, which he named after the song. It was here that Guion and his house servant were found for the 1940 Census, with David listing his career simply as "composer." Among his most significant works during this time was the Texas Suite, an orchestrated collection of famous Texan tunes and some new entries, commissioned in 1950 for the Houston Symphony Orchestra and completed in 1952. Guion also maintained an active membership in ASCAP (which he had joined in 1927), the Texas Teacher's Association, and the Texas Teacher's Guild. In 1950, during a declaration in Texas of David Guion Week, Howard Payne University, where he had learned early on at its predecessor, gave him an honorary Doctorate of Music given his significant influence on young musicians in Texas colleges. Similar honors came from Southern Methodist University. In 1955 he received the honor of being named one of America's most significant folk music composers by the National Federation of Music Clubs. Pending construction of a dam near his house which condemned the property forced him to abandon his Home on the Range in 1965. He lived out his life in Dallas in his mother's home, highly regarded once again on his death in 1981.
For ragtime musicians and fans David Guion's contribution should certainly extend beyond
Texas Fox Trot
, as he carried on the influence of pre-ragtime music forms by keeping them alive for future study. His link to these pieces, their rhythms, and their meanings, was almost direct given the environment he grew up with. His musical education allowed us a fairly accurate and scholarly look at these tunes as well. Some of the cowboy music also emerged from forms that shaped ragtime and musical forms of the 1920s and beyond. There is a permanent exhibit dedicated to Guion at the
International Festival-Institute in Round Top, Texas
for which a virtual web tour is available on their site.