Felix Arndt
, regarded by some as the earliest proponent of the novelty piano style, was born to royalty, at least in a sense. His mother,
Charlotte Harpeur
(5/1851), was born in Spain to a French father and Spanish mother. Charlotte was known as the Countess Fevrier of France, and was reportedly related to Napoleon III. (She was mistakenly listed as Carolyn in the 1910 census.) Felix's father,
Andreas W. Hugo Arndt
(2/1853), was a carpenter born in Switzerland. The couple married in Manhattan in 1888. Felix also had a younger sister,
Charlotte A. Arndt
(12/1890). Born in New York, Felix was educated in the New York City public school system, greatly improved as the influence of Tammany Hall was waning,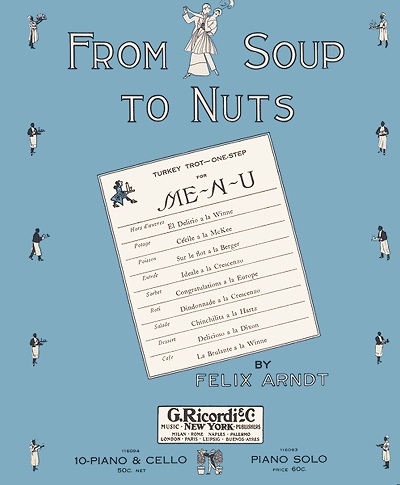 and usually fostering those who wanted to play instruments in the requisite school band. He took up the piano on his own, but later sought out advanced training in harmony and theory. One of his professors was pianist
Carl Lachmund
, who was a follower of
Franz Liszt
. Carl's son
Arno F. Lachmund
would one day work indirectly with Felix while employed by Duo-Art.
Once out of school, Arndt's talent for arranging was quickly recognized by publishers, and he got a job composing special material on demand for several years, including for vaudeville stars such as the husband and wife team of Nora Bayes and Jack Norworth, and often with fellow composer Gus Edwards (although specific titles have not surfaced to date and may have been disposed of after use). His steady gig for a time was as the organist for New York's famed Trinity Church, right on Wall Street and a focal point in the days following the WTC disaster of 2001. He was shown in 1910 as still living with his family, and as a musician working for a publisher. Charlotte is shown as a stenographer working for a publisher, possibly the same one.
One of his more fortuitous breaks came in 1912 when Felix joined banjoist Fred Van Eps and his brother Bill Van Eps on a second banjo to form the Van Eps Trio, the first of many such groups led by Fred. Van Eps had already been recording for Victor Records, so had no problem bringing Felix into the fold. When Fred first met Arndt, over a decade younger than himself, he was a fledgling arranger and demonstrator for publisher M. Witmark working for around $20 a week. Van Eps was impressed with his skill and style, and tried to recruit Felix against his European mother's objection, since she did not want him leaving a secure position to work as a performer. Fred told her that he would guarantee Felix $50 a week, but "if couldn't make $100 I didn't want him." She consented, and it launched a fruitful but short career for the talented youth.
Victor also accepted Felix as a soloist, and this started a flurry of recording activity over the next several years. Felix would cut at least 30 keyboard solo sides in addition to his recordings of the trio, and five with mandolin player Dr. Clarence Penny. Many of the sides also featured Felix playing the delicate keyboard celesta. He also debuted many of his own compositions simultaneously on record and piano roll over the next few years. After several cuts in 1912 there were curiously no solo sides from 1913, but as it turns out, Felix was pretty busy.
Another bit of good fortune came in 1913 when Arndt started at Universal Music Company during the advent of "hand-played" piano rolls. As announced in the Music Trade Review of March 15, 1913: "The Universal Music Co., 29 West Forty-second street, New York, is calling the attention of the trade to. the fact that Felix Arndt has just signed a contract to compose, arrange and play for the Uni-Record. Felix Arndt needs no introduction to lovers of popular music, either as a player or composer, as his renditions are known from one end of the country to the other." Even though he was signed at first as an "exclusive" artists, Arndt soon managed to get work with other concerns as well.
Being a fine arranger and pianist, the position with Universal allowed him the opportunity to advance his skills when applied to other composer's works, and helped him in his compositions as well. The following year, Arndt also became a staff musician for
Aeolian Hall
, creating Duo-Art reproducing rolls in the Popular Music genre.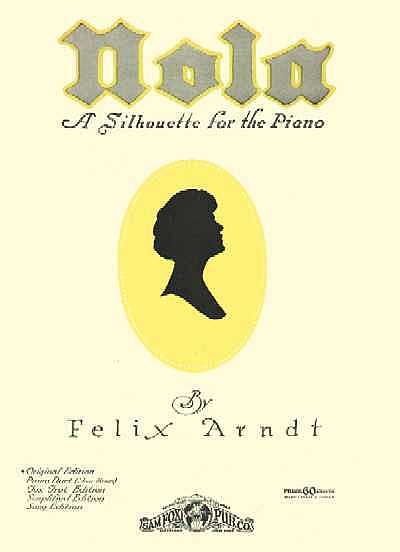 In his nearly five years for the two companies he reportedly created over 3,000 rolls, which would equate to three or four on an average work day. It should be noted that he was not confined to popular works only, taking on many well-known classics, operas, and even contemporary composers such as
Claude Debussy
in his own inimitable style. However, many of these rolls were sometimes re-released under multiple sub-labels, so that number was likely substantially smaller, yet still astonishing given the time frame.
It was during this period that he penned the first of a series of compositions that are now considered to be classic novelties, A Symphonic Nightmare: Desecration Rag (#1). It is an amusing send up of well-known symphonic pieces in a complex syncopated format. This was followed by the unusual From Soup to Nuts, and a piece that would be the harbinger of genius yet to come, Marionette, although the latter would not be fully released until 1917. Felix was a charter member of ASCAP, founded by several musicians in 1914 in an effort to provide a focal registration point for protecting copyrights and distributing royalties.
In late 1914 or early 1915 Felix met his famous muse, Nola B. Locke, a professional singer with the St. Louis symphony, and a vocal teacher and capable pianist as well. She was born in DeQueen, Arkansas, near Monroe, on July 11, 1889 to real-estate agent George Todd Locke and his wife Callie Blanche (Dooley) Locke. She was in the middle of six children in the family of three girls and three boys, the youngest boy dying in infancy in 1900. George died a year later in 1901. Nola was on her own as of the 1910 census, living in St. Louis and likely working as a teacher at that time, having not yet been engaged by the Symphony. The circumstances of how she met Felix are unclear, but in her obituary it was stated that Nola had traveled to New York to find a better situation for her vocal talents.
Soon after they met the couple was engaged, and Felix wrote his signature piece in honor of the occasion, Nola - A Silhouette for the Piano. A lilting tune made up largely of interesting patterns, and melodic lines that utilize both hands and span pretty much the entire keyboard, it was a much admired template for what would become the genre of novelty piano in the 1920s. Written and copyrighted in late 1915 it was first published and recorded early in 1916. Several months after the piece was composed they were happily wed. A later attempt to turn it into a relatively unsingable song version with lyrics by added by James F. Burns was met with lukewarm response, the difficult pairing proven by a vocal recording of the piece.
Felix performed both on record and live with variations of the Van Eps group, but at some point pianist
Frank Edgar Banta
started to fill in from time to time. According to Van Eps, he started to have trouble with his hands for some unknown reason, which made his live performances less consistent. Banta would eventually take over the piano spot in the group by 1916, partially at the insistence of Victor management who liked that particular combination.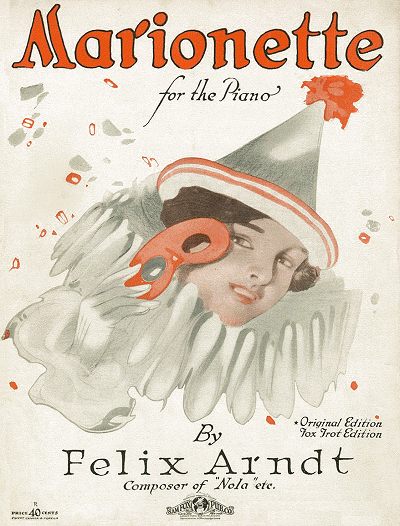 However, it was over the next two years from 1916 to 1918 that Felix really started to find his niche as a composer as well as a performer and arranger on piano roll, which could forgive any issues he had with controlling his hands. There was a second Desecration,
An Operatic Nightmare: Desecration Rag #2
(the first was renumbered at this time), and a nice dance piece titled
Clover Club
. On some of the many rolls for which Felix applied his flying fingers, Nola also accompanied him and got credit for their duets.
Right around the time of World War I was when young George Gershwin looked briefly to Arndt as a mentor of sorts. Felix likely got George his job with Aeolian Hall on 42nd Street in Manhattan in early 1916, potentially inspiring or even contributing a bit to the single rag that Gershwin wrote, Rialto Ripples. It has been suggested that Felix may have introduced George to his friend Irving Caesar, with which Gershwin would later pen his first and biggest hit, Swanee.
Felix's 1917 draft card shows him as an employee of Aeolian, and the sole support for Nola and her mother. His parents were still in Manhattan, and his sister Charlotte had recently married Alex Alexander. They subsequently had a daughter in 1918 named Elaine, and continued to live with Hugo and Charlotte for some time. On January 1, 1918, Felix added yet another notch on the ladder of success when he started with the now-dominant QRS piano roll company. They were also fortunate to have signed him exclusively to their label. He put his own full page announcement under his portrait in the trades in February, 1918:
Throughout 1918 Arndt turned out a torrent of rolls with dynamic arrangements. There were some issues of the trade papers in which his name might be seen associated with four different companies on the same page. Overall, he had recorded hits for Universal (including their Uni-Record line), Aeolian (including their Duo-Art, Metro-Style Themodist and Metro-Art lines), the Wilcox and White Company (including their Angelus line), the A.B. Chase Reproducing Piano Company,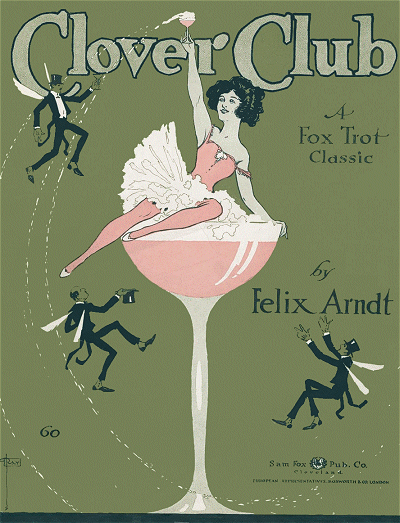 Perfection and QRS. Other companies featuring his work would tout him as the well-known player of rolls, even though he was working for the competition.
Then the 1918 Spanish Flu pandemic struck the world, and New York City was hit hard. According to the account in the Music Trade Review of October 26, 1918: "Mr. Arndt contracted cold on October 8, which developed into pneumonia, causing his death on October 16." The final analysis was that his system was weakened, and the influenza quickly overtook him at that point. This deadly sickness deprived the world of Felix Arndt shortly before WWI had ended. Arndt was interred at Sleepy Hollow Cemetery in Tarrytown, New York.
Nola went on with her life, and interestingly enough was known to have lived for a time with their mutual friend Caesar. Following her late husband's lead in the music business, she contributed the lyrics to Nobody Loves Me Now by Billy Tracey in 1922. While not readily found in the 1920 census, she was located in 1930 married to a Russian immigrant construction company president, Henry Mandel, working as a musician doing private concerts. Another song with lyrics by Nola appeared in 1938, Mia Cara (My Dear) with Oscar Malanga. From the late 1940s into the 1950s Nola worked as a music and drama coach in New York City. Little is known about the remainder of her life. Nola died in Manhattan on July 19, 1977. She was buried with her first love in the Sleepy Hollow Cemetery in Tarrytown.
As for her namesake composition, it continued to grow in popularity for decades after Felix's death. As noted in the February 28, 1925 edition of the Music Trade Review:
Composition by the Late Felix Arndt Continues to Grow in Favor Despite Long Time Since Published
"Nola," which has found such favor as a foxtrot with dance orchestras, theatres and in photoplay houses during the past season and also as a solo number by concert artists and in other is the work of the late Felix Arndt. As a piano silhouette it was recorded on the Victor records in 1915 and was first released in sheet music form by the present publisher, Sam Fox Publishing Co., Cleveland, Ohio, at that time.
The popularity of the number was immediate, demonstrating that the public, while favoring popular music, appreciates compositions of the better type. The original sales on this number were also produced by the renditions of pianists who gave it its initial popularity and who successfully presented it in the same manner as that of the composer.
In 1922 Vincent Lopez and His Hotel Pennsylvania Orchestra rendered "Nola" as a fox-trot for the first time and later it was one of their features by radio. This quickly established "Nola" as a dance number and the publisher immediately forwarded orchestrations in fox-trot time to the leading orchestra leaders in all parts of the country. It undoubtedly became the outstanding instrumental hit of 1922 and the early part of 1923 and, of course, continues to maintain much of its popularity.
In 1923 Adelaide and Hughes, Florence Walton and Maurice and Lenora Hughes took up "Nola" as a special feature dance number. This brought further popularity to this offering. Bill Baker used it in the Music Box Revue for a full season. George Carey, xylophone soloist of Sousa's band, and the popular pianists, Roy Bargy, Frank Banta, Joseph Daily, as well as Frederick Fradkin, the solo violinist, played the number with unusual success. The latter also recorded the number with his own original arrangement for Brunswick records. Jascha Gurewich, the saxophone virtuoso, has proclaimed this number the greatest instrumental novelty ever written and many other outstanding artists seem to have a similar opinion.
The publisher is firmly of the belief that 'Nola' has not reached its peak and is anticipating that before the year is over the demand and sales for this charming composition will have increased double to what they are at the present time.