Julia Lee Niebergall
(Feburary 15, 1886 to October 19, 1968)

1905

Clothilda (March)


1907

Hoosier Rag


1908

Bryan Cocktail

[w/N.S. Carter]




1909

When Twilight is Falling (Song)


1911

Horseshoe Rag


1912

Red Rambler Rag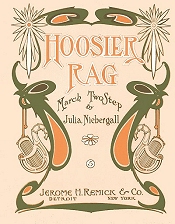 Julia Lee Niebergall was born in Indiana to George Niebergall, a print shop lithographer, and Minnie (Krueger) Niebergall, who was likely already pregnant when the couple married on August 26, 1885. Julia was the oldest of two girls and a boy, including her brother Herbert (b.1888) and sister Mayme E. (b. 1891). She took to the piano at a fairly young age and by her late teens had become a friend of composer May Aufderheide, whose father eventually published two of Julia's works. Niebergall was born into a musical family as her dad played the double bass, occasionally even with the Indianapolis Philharmonic, her sister also took to the piano, and her brother was a percussionist. In the 1900 Census the family is shown in Indianapolis with George as a lithographer and all of the children still in school.
     Julia was a truly independent woman who allegedly married young shortly after finishing school, but soon found out that marriage was not for her and divorced young as well, keeping her maiden name. Evidence of this marriage has been difficult to come by, and she shows as single, not divorced, in the 1910 Census, so this was possibly confused with a marriage she entered into briefly several years later.
     After one early march she had a measure of success with her Hoosier Rag, which was eventually published by Jerome Remick in Detroit. Beyond that she wrote only two more piano rags, both published by J.H. Aufderheide, and a pair of songs. Julia also acted as an arranger for the Aufderheide firm for a period of time. She did not consider herself a composer by trade, and in the 1910 Census was listed as still living with her parents but with no apparent profession.
     One typical sighting of Julia utilizing her comic wiles is relayed in a late February 1911 edition of the Indianapolis Star, in which she attended the Maennerchor Costume Ball (their equivalent of Mardi Gras) dressed as Mary Quite Contrary, and later as Little Miss Muffet.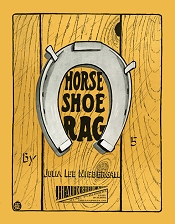 That same week she had presented a musical monologue at a Daughters of the Revolution gathering. In fact, several other articles indicate that she was working at many Indianapolis events as a musical monologist (a pianist who gives comic or dramatic sketches punctuated with playing), often on the local B.F. Keith Vaudeville Theater, which also doubled as a cinema. Julia also played at her sister Mayme's wedding to Dr. Paul E. Bruick in Fort Wayne, Indiana, performing the famous Barcarolle from Offenbach's Tales of Hoffman, clearly demonstrating that she had some range as a pianist as well.
     During the 1910s and 1920s Ms. Niebergall taught music on and off at Manual High School, and was a professional pianist focusing mostly on playing for movies at the Colonial Theatre right up until recorded soundtracks took over, as well as for other stage presentations and social events. Many of these events were reported on in the Indianapolis Star throughout the 1910s. At one April of 1915 church event, in which her picture was published with the article, Julia was said to have played Desecration Rag, likely the Felix Arndt piece by that name. She also occasionally played for ballet and gym classes when her services were requested. Julia was also an active entertainer in Indianapolis during the war effort, raising funds and morale for soldiers, particularly those overseas without any parents for whom a local organization wrote letters of support. She was once again active after the war, featured in a minstrel show in 1919 among other events. In spite of this, Julia still listed no occupation in the 1920 Census. Newspaper references for her seem to evaporate in the 1920s as well.
     Julia tried marriage (possibly for a second time), starting on February 26, 1921, to Mr. George Ray in Hendricks County, but was subsequently divorced from him by the mid-1920s, resuming her maiden name. As an assertion of her fiery independence, it was widely known that Ms. Niebergall was one of the first women in Indianapolis to own and drive her own vehicle (make and model unknown).
     In later years Julia taught some piano and music theorytheory and played for gymnastic classes at the Athenaeum, where she was a member of the Women's Auxiliary. She was listed in the 1930 Census as still living with her father, her mother having been deceased by that time, and working as a teacher in a music school, the first listing of her in a Census in the music profession. Her father George, who never took a vacation during his tenure as a lithographer with the William B. Burford Printing Company, had been forced into retirement by a stroke in 1925, and was in her care until his death in 1932. As of the 1940 Census she was living alone, claiming a birth year of 1897, and listed as a music teacher.
     Julia was able to support herself and maintain her own home as a professional musician and teacher nearly up until her death in Indianapolis in October, 1968, at age 82.