Hi everyone! I'm Miss Kelsey!
Miss Kelsey holds her own amidst the winds of musical change.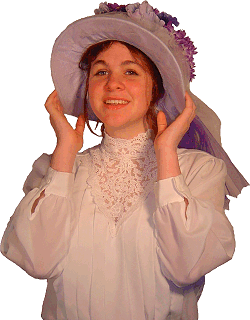 One of my favorite things is to sing, but not necessarily to sing new stuff. I wasn't always so against the music of today. In fact, I used to have a sort of affinity for it. It was the "limitations" of my voice that first spawned this love for jazz and old-time/ragtime music. Now I must say, I wouldn't have it any other way.

I was 13 and a friend and I were just hanging out together one day. I was listening to Mariah Carey (one of my favorite singers at the time) and singing along. I mean I was really participating with feeling and gusto. After a while he turned to me with this weird expression on his face, "Kelsey, I don't think you were made to sing this type of music." At the time I was kind of put out; he had just insulted me! Later though, I realized there was some truth in what he said.

Fed up with my pleading and begging and whining and... (I think you get the picture) my mom signed me up with a professional voice teacher. As I went to more lessons, and my voice stared to mature, I realized my voice was different from that of pop music singers. At the time I really didn't see that as a good thing. I wanted to do what all my friends could do and sing like the pop stars, but that just wasn't in the cards for me. Years passed and people started taking notice in my voice. As a result of their input and my experiences, I stopped thinking of my voice as "different" and started thinking of it as "unique!"

She would have made a great flapper
girl, attitude and all.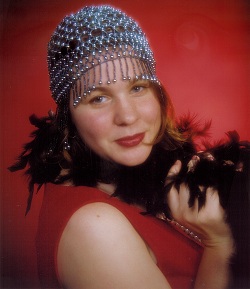 So now that I've been singing for a while you'd think it would be easier; I could just float onstage, do my thing, and wow the audience... No problem? I wish. If anything, I've become more anxious because I feel my audience has high expectations for me. However, aren't those fears the trials and tribulations of any performer? It comes with the packaging. I do this because I love to sing. I really like being onstage for all to see and be in awe of the wonderfulness that is me. (Kidding, just kidding I'm really not that egocentric.) Performing may be nerve-wracking and stressful, but to be singing this music and broadening my listeners' horizons makes it all worthwhile. In that and in many other regards I like to think I'm different from many of the up and coming singers, although I still respect and appreciate their unique talents as well. A good singer is a good singer regardless of their chosen genre.
---
Miss Kelsey is available for concerts, school shows, public gatherings and private functions. In league with her accompanist and arranger, "Perfessor" Bill Edwards, they provide a mixture of scintillating piano performances and vocals ranging from soft and sweet to downright hysterical that will keep any audience engaged for an unforgettable evening of fun. You can learn more by sending a message to Miss Kelsey and the "Perfessor" at misskelsey@perfessorbill.com, or you may use the form below.
---