All MIDI file contents and Wave/MP3 Audio recordings are Copyright ©1998 through 2015 under the 1998 Electronic Copyright Laws by Bill Edwards and Siggnal Sounds. All Sheet Music and Album Cover images here have been restored or enhanced by Bill Edwards, and only the original sources are in the Public Domain (except where noted). Unauthorized duplication or distribution of these proprietary files or associated digital recordings is a violation of copyright and patent law. They are for personal use and enjoyment of individuals only, and may be used on other sites only upon request for permission to do so. This site has been optimized for HTML5/CSS3 browsers released in 2012 or later with a recommended minimum 1024x768 and optimal 1280x900 monitor resolution or better.
Listings are updated now and then. Last Update
Left Click on title to play MP3 or thumbnail to View full size cover with MP3 Player.

Previous Page
The Gospel in Ragtime
Next Page


Amazing Grace
Traditional melody harmonized by Edwin O. Excell (1900) and Lyrics by John Newton (1779)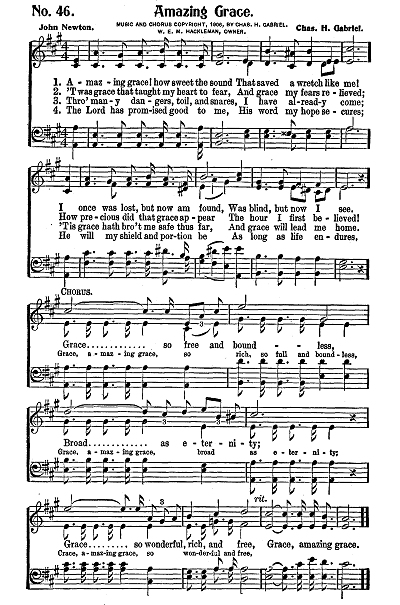 The most recognizable religious tune written to date,
Amazing Grace
has been translated into virtually every language known to the world. 19th Century missionaries carried it with them to previously unknown societies around the world. Rock stars have been known to perform it in concert. It is in every published Christian hymnal. PBS even produced a television special about the history of just this one tune. The melody is assumed to be 17th century Appalachian in origin, although the varying versions of published words can be absolutely traced to John Newton, among others who have either added to or translated it.
Amazing Grace
is universal, and I have heard all sorts of arrangements, even ragtime in nature. Being a church music leader myself, I prefer a more traditional gospel approach, and I have used this with some of the best singers anyone could ever work with. Even then, this anthem makes great singers out of anyone. I hope it induces you to sing and experience the praise along with me.

Swing Low, Sweet Chariot
Wallis Willis - c.1840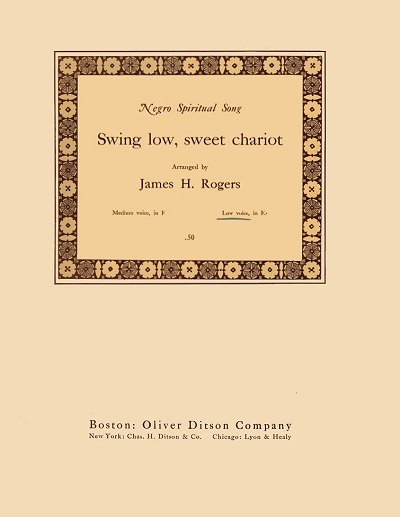 While this tune has often been included with the ranks of Southern Negro spirituals, it was actually composed by the black slave, later freedman, of a Choctaw Indian from Oklahoma. He also served at Spencer Academy, a Choctaw boarding school for boys before he was granted his freedom.
Wallis Willis
was also responsible for the equally popular
Steal Away
, which had references to the famous underground railroad of the Civil War. As he later recounted, Wallis was working a cotton field near the Red River when he remembered back to the plantation on the Mississippi River that had previously been his home before his master's move to Doaksville, Oklahoma. His wistful thoughts turned into a wish for some magic transport to take him back there, which also became a vehicle for going to his ultimate home in heaven. Wallis and his wife often sang his pieces at Spencer, and they were heard by a missionary who worked to get them published and performed in the mid-1860s. Both of these now-famous tunes have been in continuous circulation since. Taking the swing quotient somewhat literally, this performance adds a bit of a swing feel to the genteel melody.

Go Down Moses (O Let My People Go)
Obtained through Reverend L.C. Lockwood - 1861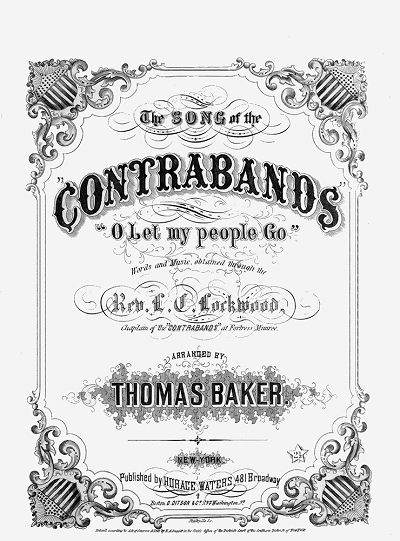 One of the best-known of the Negro spirituals still sung today, and like many of its breed, this work has a nebulous origin, and has had a number of deviations from the original publication applied to it until it was standardized by the mid-20th century. It may have been used as a rallying cry or more likely a covert signal by
Harriet Tubman
when she was running her underground railroad, helping pre-Civil War slaves escape through Maryland to the North. In its first published guise, the song was "obtained by" Reverend L.C. Lockwood, a Chaplain at Fort Monroe in Hampton Roads, Virginia, and titled
Song of the Contrabands
in reference to the slaves themselves, reflecting the view from a moral standpoint in spite of the Southern laws of that time period. While there are similarities between that 1861 publication and the piece we know today, and as it is presented here, there were some melodic differences and it was cast in a 6/8 time signature, closer to a shanty than a field song. Some early recordings of the piece even have it performed in a major key, instead of the mournful minor it is known for. This particular take follows the more dramatic path in the opening choruses, then moves into somewhat of a slow stride/blues vibe, still in touch with the sadness associated with that regrettable period of American history.

The Battle Hymn of the Republic
Phillip Simonds (M) and Julia Ward Howe (L) - 1862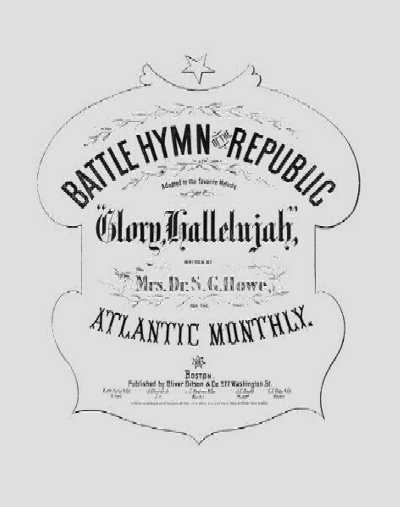 It seems that every war the United States has been involved with has yielded some very memorable songs. No war was more horrific for us than our own American Civil War. As a song of inspiration which was needed by many sending their men off to the war, Julia Ward Howe adapted verses in 1861 with a religious message to a popular secular protest song written the previous year,
John Brown's Body
. That song was derived from an 1858 Methodist Hymn titled
Say Brothers, Will You Meet Us
copyrighted by
G.S. Scofield
, plus the popular
Glory, Hallelujah
chorus, which remains largely the same. In the early 20th century, musicians in New Orleans took many pieces from the popular liturgy and adapted them for funeral marches and subsequent celebration parades back from the cemetery. This has long been a favorite of traditional jazz bands because of its inherent adaptability. Incidentally, the John Brown mentioned in the earlier incarnation of the tune referred to
Sergeant John Brown
who died at Fort Warren in Massachusetts, not the
John Brown
famous for his raid on Harper's Ferry, Maryland in 1861.

Just a Closer Walk with Thee
Traditional - 1860-1880s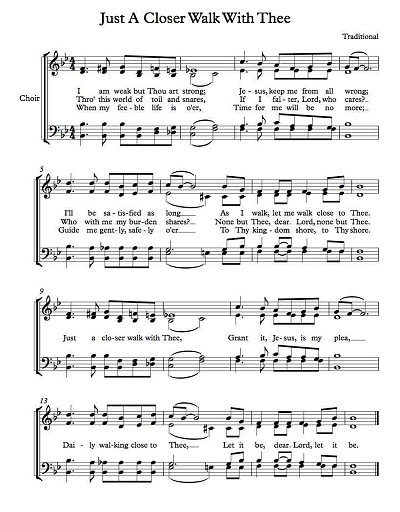 As with many hymns and spirituals that saw their origins in the American South, this one is subject to a murky line of parenting. It appears to be neither black nor white, but perhaps one of the clearest combinations of spiritual and hymn in one. While it has the feel of a spiritual, one particular to the area around New Orleans, Louisiana, in fact, the text, first published in the 1880s, is clearly not in the dialect found in other spirituals from that era. The melody is somber, serene and simple, making it a favorite of jazz bands as well as church musicians. In New Orleans in particular, this is one of the most frequently used songs played during a funeral procession from the church to the graveyard, as they are serenaded by the second line, the group of musicians who come together for the occasion. Once the body has been placed, the mood changes and the crowd celebrates the life of the deceased. While other pieces like
Oh, Didn't He Ramble
are often played during the trip back, this one can also be picked up in tempo quite effectively, as demonstrated in this performance.

The Joshua Drag
Traditional Negro Spiritual arranged by Bill Edwards in the style of "Fats" Waller - 1862/2006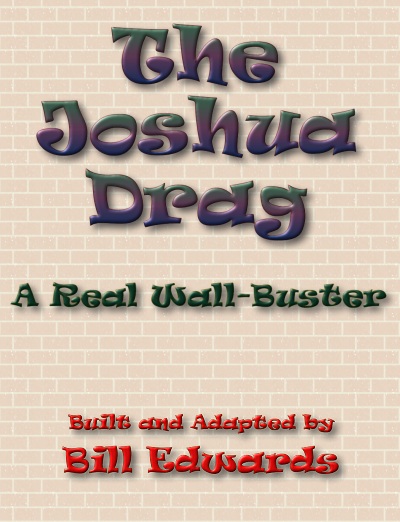 When working up my Gospel album in 2006 I wanted to keep it fairly close to the spirit of the genre, but also honor my the music I spend so much time with; in this case, some stride piano. So I came up with the unusual pairing heard here. It is essentially the melody of
Joshua Fit (Fought) the Battle of Jericho
dropped into to the structure and feel of
The Viper's Drag
by
Thomas "Fats" Waller
. The end result is either sublime or profane, depending on your point of view, but it worked surprisingly well. While
Viper's Drag
can be assigned a 1934 origin, it is harder for the core spiritual itself. It appears to have developed through field songs by African American slaves from the 1840s to 1860s, spreading throughout much of the American South during those decades. The first known copyright and publication for the tune date to 1865. The end of the piece tips the hat to another performer of such pieces,
Eubie Blake
, with a hint of his famous
Charleston Rag
closing out the performance.

Deep River
Traditional Negro Spiritual - 1877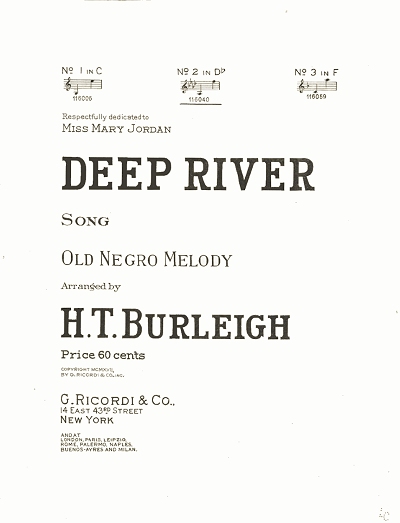 One of the most soulful and poignant of the well-known Negro spirituals,
Deep River
possibly pre-dates the Civil War, but did not appear in print until 1877 in a Fisk Jubilee collection, and the 7th edition of that collection at that. In fact, it was originally published as only the melody with no harmonic accompaniment, leaving the chord changes ambiguous, suggested only by the direction of its melody. While there is speculation that the piece may have preceded this publication by as much as half a century, there is no tangible evidence to support anything except perhaps use during the Civil War and Antebellum periods. Nor is there any solid contention that it refers to the best way for slaves to escape to freedom - through a deep river in order to escape detection from bloodhounds and trackers. It actually appears to be more about the metaphor of the journey across the River Jordan by the Israelites to a new and better promised land, something which tracks well since the slaves of the United States who were Biblically educated felt an alliance with the slaves of Egypt who went through a similar toil. There were some alterations of the piece between the original Fisk publication and some of the better voiced settings of the 1900s, such as the one by arranger
H.T. Burleigh
in 1917, into the 1930s. The core melody of the verse is still the same, with some improvements in the bridge and final chorus. I try to infuse elements of mid-nineteenth century classical styles into this performance, including those of Chopin and Brahms, but also a lot of passion, and simplicity when appropriate, with this beautiful lament.

The Old Rugged Cross
Pastor George Bennard - 1912/1913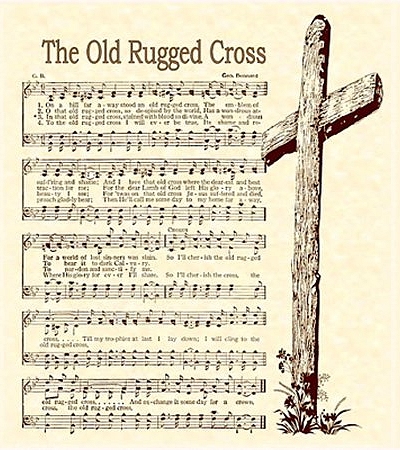 This stalwart hymnal favorite,
The Old Rugged Cross
, has a fairly definitive point of origin and a story. It was composed in 1913 during the ragtime era by Methodist minister
George Bennard
. The story varies as to whether he wrote it in Albion or Pokagon, Michigan, or even Sturgeon Bay, Wisconsin, all of which lay claim to this highly popular tune. It is probable that since he served in all three towns that he added verses after his initial take done in late 1912. The tune was born from his personal pain, having lost his father at age 16, and his revelation after reading Galatians 6:14 that the cross Jesus died on was not so smooth and solid as often represented, but of rough-hewn wood. Of the 300 or so pieces Bennard composed, this was the only truly popular one, having been selected by famed evangelist
Billy Sunday
as one of his favorites. Virtually every singer that has touched on old Gospel, including
"Tennessee" Ernie Ford
,
Andy Griffith
and even
Willie Nelson
, have recorded a take of this hymn. My treatment here starts out with the traditional 3/4 or 6/8 feel (both have been claimed), with a relaxed final chorus in 4/4 time for a little period variety, perhaps even how
Ragtime Rosie
might have played it.

Just a Little While (to Stay Here)
Eugene Monroe Bartlett - 1921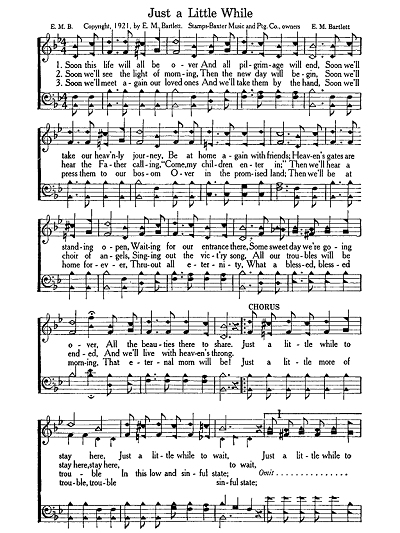 This is one of the later entries into the classical gospel/traditional hymn collection, but an important and viable one.
Just a Little While
is a favorite of New Orleans bands and pianists as well, given how malleable it is with its light swing. By the time this was copyrighted in 1921, Bartlett had been part of the Hartford Music Company, a music publishing concern focused largely on gospel forms. His first few editions of
Just a Little While
and other works from this time were typeset using shape-note, a methodology embraced by the company's co-founder
David Moore
. Bartlett went on to compose several more well-known pieces in both the spiritual and country genres, including
Victory in Jesus
, composed in 1939 at age 53, shortly after a massive stroke disabled him from performing or traveling any longer. I have combined two different feels in this performance, both of them reminiscent of pianist and Disney animator
Frank Thomas
, who I heard play it on a couple of happy occasions.

Do Lord
Anonymous - c. 1920s?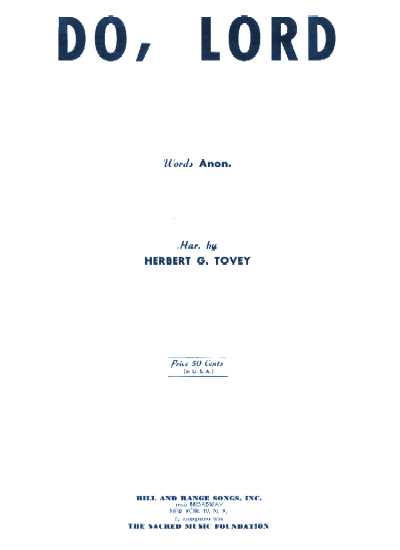 One of the earliest popular praise choruses, this venerable number of nebulous origin is based loosely on
Battle Hymn of The Republic
which was composed during the American Civil War.
Do Lord
emerged in part in the 1920's and became popular at church meetings, although not always during worship time. There are hints that it may have emerged from the fields pre-antebellum, but traces of the song before the early 1920s are hard to come by. One of the main differences from hymns is that spirituals were among the only religious pieces of the 19th and early 20th centuries that were truly strophic - using verse and chorus format. Most hymns are a repeated verse-only melody with multiple verses, and maybe a common tag.
Do Lord
seems to automatically induce the need to clap largely due to the chorus syncopations. Ragging it is not only the next logical step, but may be part of its development as well. Also, remember your manners when helping the pianist along, and please clap on beats 2 and 4.

Get Happy
Harold Arlen (M) and Ted Koehler (L) - 1930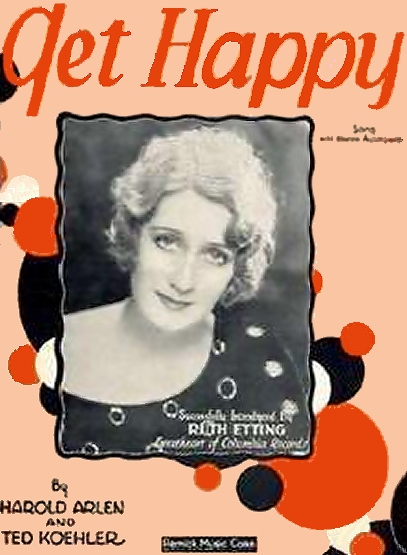 While it seems odd that a fairly well-known popular song of the early 1930s is included in a gospel section, that inclusion is really not too far off the mark, since other such tunes have had strange origins outside of their respective genres. This one actually got its start with Broadway, but not intentionally. Arlen was still a relatively unknown composer in the late 1920s, but a talented pianist who played for several different New York shows. As he told it on film, "They used to have a standard vamp, which something like this..." (which sounded like a typical introduction to a dance tune). "I wanted to simplify it, and I did this..." which was a repeated single chord in a similar rhythm. "And I got tired of that, so one day I did this..." (playing the opening motive to
Get Happy
). "Some foolish publisher heard it, gave me a contract, and it became
Get Happy
." The piece was originally featured as the closing show stopper in
The Nine-Fifteen Revue
of 1930, performed by singer
Ruth Etting
. While the song and the performance were both memorable, the rest of the play was not, and it closed within two weeks. The song itself is intended to echo the feeling of a Christian evangelical revivalist tent meeting, and Koehler's lyrics, while not overtly religious, put it right in the field of similar gospel and spiritual songs. The dynamic but rarely-heard verse very much sets that tone.
Get Happy
later became a hit for singer
Judy Garland
as performed in her final MGM outing,
Summer Stock
, and in most of her concerts to the end of her life. There is some continuity here since her other big hit,
Over the Rainbow
, was also penned by Arlen along with
Edgar "Yip" Harburg
for
The Wizard of Oz
in 1939, a musical that brilliantly and arguably precedes
Oklahoma
of 1942 with the idea of a musical using character-based songs to move the plot forward. So what are you waiting for? Click it! Get Happy!
---
The Ragtime Webring-Dedicated to Scott Joplin and the music of the Ragtime Era, this ring is an invaluable resource for jazz music lovers, musicians and historians. Sheet music, midi files, afro-american history, record collectors...

| Previous | Next | Random Site | Ring Hub | Add Your Ragtime Site |
There are lots of great ragtime recordings by top artists available from

Including some of my recommended favorites:
And don't miss these movies which include some ragtime music:
Or just search their site using the search engine below!