The Teddy Bear's Picnic

John W. Bratton - 1907: This charming piece, the most recognizable of the Teddy Bear craze tunes, has also proven to be the most durable. In fact, many are not aware that it was originally an instrumental. The lyrics (not included here for reasons pertaining to copyright and contextual historical presentation) were added in 1932, creating a children's tune that was an instant hit. Here is the true Teddy Bear story in short form.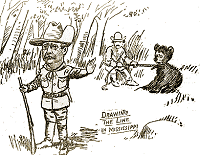 In 1902, President Theodore Roosevelt, more often known as Teddy, was in Mississippi to help negotiate a disputed border between that state and neighboring Louisiana. His hosts in Mississippi knew that he had a passion for hunting, and arranged many bear hunts for him. However, none of the critters came out to play that day much less over the following eight days. Finally, the advance team found and captured either (the story varies) a sickly bear or a bear cub which they beat and leashed to a tree. When Teddy arrived, he took pity on the creature and refused to shoot at such a helpless and frightened target. (It should be noted that the poor bear had been beat into submission, and was put out of its misery after the President left. His hide is now in the Smithsonian archives.) The story of this incident spread quickly, and on November 16, 1902, highly popular Washington Post cartoonist Clifford Berryman published the cartoon displayed here, cleverly entitled "Drawing the Line in Mississippi," a fitting pun referring to both the border dispute and the hunting incident. It was reprinted virtually everywhere and inspired Russian immigrants Morris and Rose Michtom of Brooklyn, New York, Candy store owners, to display a non-threatening jointed bear in their shop window, a new wrinkle on how bears were viewed in general. It was named "Teddy's Bear" and the word spread quickly. The Michtoms recognized the potential, and arranged to have more of the little bear tykes manufactured by their newly formed Ideal Novelty and Toy Company. So within two years there were Teddy Bears everywhere. Many songs followed, but this jaunty march with the unusual cover seemed to capture the feeling that Teddy Bear lovers everywhere were looking for. The interpretation here starts out with a little pre-march to the picnic area. Within the well-stated trio is an interlude or "dog fight" that is excluded from the song version, and is based in part on the introduction. The last statement of the trio is purely as I hear it, and just for fun. So don't go out in the woods today without this tune in your head.