William Edwards
slid into the world in 1959
in Southern California at a time when there were 49 states in the USA, Richard Nixon was starting preparations for his designs on a White House bid, Television was still mostly broadcast in black and white, Disneyland had just added some of their best attractions to date, and the first ragtime revival and honky-tonk craze was nearing an end. At the age of nearly 6, Bill's parents divorced, and his dad left behind some 10 inch discs of the
Firehouse Five Plus Two
,
Frankie Carle
,
Joe Fingers" Carr
(aka
Lou Busch
), and
Paul Lingle
, all full of Ragtime, Honky-Tonk, and Dixieland-style music. He immediately immersed himself into these few worn pieces of vinyl and began a journey into the dark abyss of syncopated desires. Crawling inside of the sounds of these wonderful records, the trauma around him went away, because ragtime was pure happiness. At a time when
The Beatles
and
Herb Alpert
were making it big, Bill absorbed the influences of both Rock and Roll and Traditional Jazz.
At about the same time, young Bill had learned how to make intelligible melodies on the melodeon, a sort of annoyingly shrill mouth-blown keyboard. He was eager to demonstrate each new melody to his mother, who was not always so receptive to such events at 6 a.m. The ultimate solution for channeling this talent was for her to ask Grandpa to get a piano. Being that the Kawai that was purchased outweighed young William by some 250 pounds, it could not be dragged down the long ranch house hall into her bedroom in the early morning hours for dawn concerts. It also allowed him a channel for his burgeoning talents and an escape from some of the more harsh aspects of the reality at that time. Eventually the reality of ragtime would become a part of his passion.
The budding musician quickly took hold of the instrument (but still could not lug it down the hall), and was soon demonstrating his skills at The Old Mill, Merrily Merrily, and Yes Sir That's My Baby. By the age of eleven, Bill was equally versed in Beethoven, Bacharach, Beatles, and Bawdy Ragtime songs. This made him sort of a geeky star in elementary school. By fourteen, he had learned half of the Scott Joplin catalog and most of Elton John's and Billy Joel's, and had been the choir accompanist for at least three years. This made him sort of a geeky star in Junior Hich Shool. Bill spent the majority of his secondary school years in front of a piano, and also learned piano tuning and repair to boot. He also played and sang with choirs and bands throughout his time at Grant High School. This made him - well - sort of a geeky star type of person - maybe - in high school.
A half-hearted attempt was made at CSUN to go after a business degree, but it was met by Bill with indifference after three semesters. His heart was elsewhere. Bill worked as an intern for a couple of record companies and attended community college. After receiving a broadcasting degree (AA) from Los Angeles Valley College, Mr. Edwards moved from the increasingly congested, 
Bill at the Diamond Belle circa 1984.
earthquake-ridden fire-infested smog-choked and otherwise lovely San Fernando Valley to
Durango, Colorado
, where his parents had moved, in hopes of establishing himself as the towns piano technician. While repairing a player piano at a local pizza parlor (then called
Cable Car Pizza
), the owner heard Bill play and hired him as a draw for the weekends. After a couple of months, The
Abbey Theatre
, a melodrama-style theater next door, hired him for a season of productions. In the midst of this, the well-established
Dick Kroeckel
, who played ragtime piano at the
Diamond Belle Saloon
in the
Strater Hotel
, asked Bill to fill in for him during a brief vacation. Within a very short time, the "Perfessor" had his own niche at the Diamond Belle, and played there for six years, sharing duties with Mr. Kroeckel,
Molly Kaufman
,
Jim Rowe
, and a few other talented pianists who helped shape his style and repertoire. Bill still considers Mr. Kroeckel as his mentor, for the invaluable advice and time given to him over those years. As an added benefit, Dick, in turn, had learned much of his craft directly from the inimitable ragtime recording pioneer
Johnny Maddox
.
The name "Perfessor" was adopted on his behalf in reference to early ragtime piano players. Their official title was often "Professor", but pronunciations routinely aberrated the word into "Perfessor." 
Bill with Jo-Ann Castle in Sedalia, Missouri in 1989.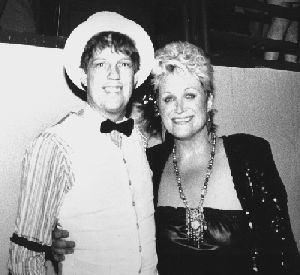 A local fan started referring to Bill as a "Professor" of ragtime one evening, and with the slight alteration in spelling and pronunciation, the name stuck instantly. People do remember it, even if they don't (or he still does not) know why, so he decided to go with it, taking the good publicity with the sometime suspect connotations.
Back to the story. While he had several varying careers in a number of fields, including radio broadcasting a stint as an entertainment reporter for the Durango Herald, Bill had earned a music degree in Durango from Fort Lewis College. He then had an opportunity to play on the East Coast and left for the Washington D.C. area in late 1986. The original opportunity did not pan out quite as promised, but Bill ended up spending eight years playing for the Fish Market restaurant and entertainment venue, and has since played everything from Jazz to Classical to Rock in other venues around the Nation's Capital. This included a Christmas performance at the Kennedy Center in Washington, D.C. Mr. Edwards has also performed with many prestigious traditional jazz bands, and worked with or opened for a variety of well-known artists, including Dave Brubeck, Al Hirt, Mel Tillis and Jo-Ann Castle.
While working by day as a software engineer, at night Bill donned his tie and vest to entertain the residents of and visitors to Northern Virginia in various venues.
One of Bill's medals from the World Championship of Old-Time Piano Playing.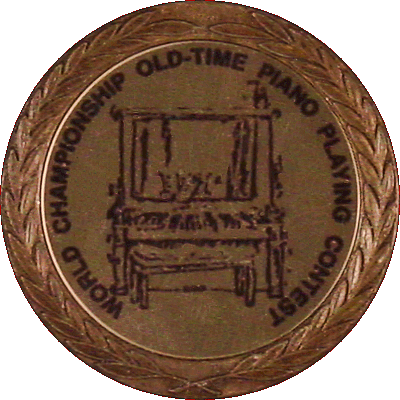 In the mid-1980's, the "Perfessor" started making appearances at the
World Championship of Old-Time Piano Playing
  previously held in Monticello, then Decatur, Illinois, which since the dawn of the 21st century has taken place over each Memorial Day Weekend in Peoria, Illinois. He has consistently placed in the top five, and even won the title somehow in 1991, having to date amassed more medals from the top five places than any other contestant. His continued enthusiasm for this great forum for performers of all ages and abilities has kept him involved in many facets of the contest, including providing some of the definitions used in the rules as well as leading seminars one year, and ultimately becoming a member of the board of directors. Soon after that came continued performance and seminar appearances at the Scott Joplin Ragtime Festival in Sedalia, Missouri, usually held within a week of the Peoria contest. Bill has also made appearances at a variety of other traditional jazz and ragtime events around the country, participating as a guest, a contestant, lecturer, judge and/or performer.
The "Perfessor" with the Ted Lemen Traveling Trophy.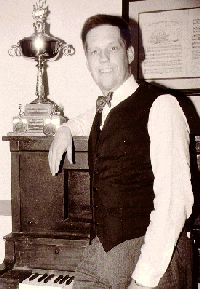 He was also involved in some live overseas broadcasts to Europe and South America for U.S. Government-sponsored shows on American Musical History. Much of his accumulated research and knowledge have been invested into this website, which many libraries and universities, along with his peers, have flatteringly been cited as a valuable resource for musical and cultural education at all grade levels. For that he is truly grateful and hopes to continue in these efforts for many years.
Since 1984, Mr. Edwards has amassed an impressive
repertoire of over 40 CD recordings
,  most of which are still currently available. They cover everything from traditional classic ragtime to early popular song, and even two blues collections. There are always more recordings in the works, and a number of them have been driven and formulated by listener requests, including those generated by his
Ragtime MIDI and Sheet Music Covers
page. He has further amassed a collection of original ragtime compositions, including an award winning rag in 2001 titled
The Necromancer
(used with other pieces of Bill's in the 2004 feature
Ghosts of Edendale
), his 2002 award winner
The Wiener Schnitzel Rag
, and his first original syncopated piece from 1985,
The Hanon Rag
, which premiered while he was still at Fort Lewis College. His 2014 composition
Lovely Laughing Lucille
took first prize for that year's initial
Blind Boone Ragtime Festival
Composition Contest.
 Bill with the late "Ragtime Bob" Darch
in Peoria, Illinois, in 2001.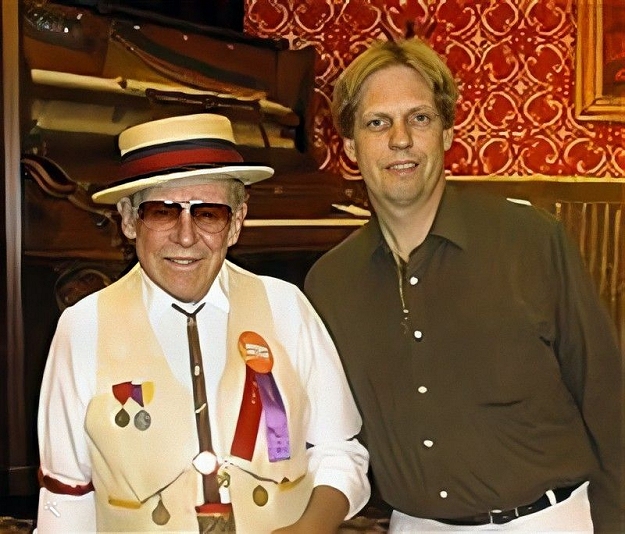 Bill broke his left elbow in an accident early in 2002, and subsequently had surgery to excise the shattered radial head in his forearm. When first waking up from that surgery he heard the doctor say he may never play piano again, at least not with any appreciable agility. However, with dogged determination, aggressive physical therapy and concentrated practice Bill soon recovered to a level of playing that may eventually eclipse his previous abilities, and has been playing well once again for more than a decade following this personal trauma. In fact, even with this injury as an impediment, he took fourth place in the 2002 Old-Time Piano competition in Peoria just four months after the surgery, and has placed in the top five continuously for over two and a half decades. He was one of six individuals profiled in the 2012 award-winning documentary
The Entertainers
, which was shot at the 2008-2010 competitions in Peoria, and has represented that documentary in appearances around the United States.
Encyclopedia of Female Composers of the Ragtime Era.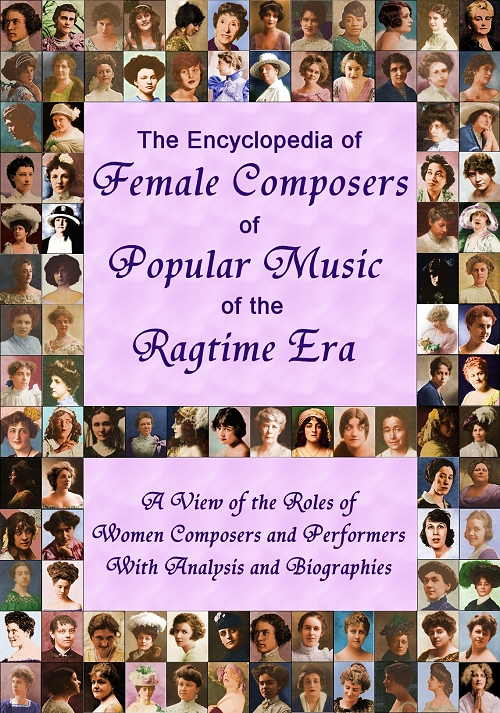 In 2014 Bill had the privilege of filling the role of Artist in Residence for the Scott Joplin Ragtime Festival, taking his message to the children of Sedalia and Pettis County, Missouri, and working to instill them with a sense of their important musical heritage. The future clearly holds more ragtime for the "Perfessor" and fans of this truly America music!
The main concentration of effort by Mr. Edwards since the early 2000s has been on researching and writing on composers of ragtime and other music from the late 1890s into the 1920s. He first completed a 400 page book on composer/publisher
E.T. Paull
in 2011, followed up by a nearly 1000-page encyclopedia of over 530 female composers of the time period completed in 2014 [still pending publication]. He is hard at work on three more tomes directly related to ragtime at this juncture, and produces one or two new seminars on aspects of the topic each year to present at various festivals. Some of the fruit of this labor of love can be found in the
Resources Section
of this website, echoed in many Wikipedia articles and quoted on other websites around the world. His passion is also to keep ragtime relevant as an American music form, and continue to bring the lives of its early performers and composers into focus in such a way that it engages younger audiences and creates a new demand for performers.
In 2016, Bill was deeply honored by the Scott Joplin International Ragtime Foundation when they gave him the highest possible recognition in the field of ragtime at the June,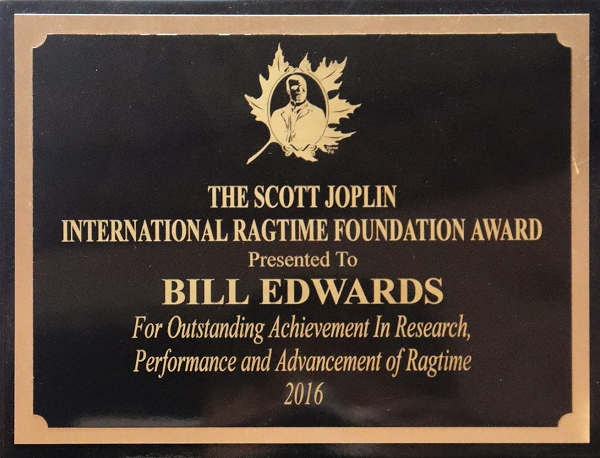 2016 Scott Joplin Ragtime Festival. He was the 2016 recipient of their award "For Oustanding Achievement in Research, Performance and Advancement of Ragtime." That is was presented to him no less than veteran ragtime performer and promoter
Max Morath
added several levels of special to the event. By no means does this humbling honor imply that Bill has achieved all he intends to in this field, and in just five months since that time he managed to finish off another book, write another 12 web biographies, record another CD - this one of stride piano, and took on a project that ended up with the digital restoration of all of the covers (89 that were located) of Scott Joplin's music. There is still a great deal left to accomplish, but there is no lack of energy or drive on Bill's part, so keep looking for more in the future. More writing. More music. More RAGTIME!
"Perfessor" Bill Edwards is usually available with a little advance warning for Ragtime, Old-Time, Blues, and Stride Piano performances, in addition to current popular music, contemporary jazz, jazz standards, Broadway, and a variety of classical works as well. He also gives informative workshops and seminars on a variety of musical or cultural topics around the United States, and is always interested in tours to other countries to share in their culture. His engaging shows and presentations both entertain and enlighten, and can easily be tailored to special events, local history, or specific themes. Educational programs are also available making music history both fun and relevant. He also has a large library of silent movies of varying genres and lengths, many in high-definition, for a full evening of cinematic enjoyment with live accompaniment. For even more fun, Bill can be joined by his tuba player son Zachary and/or drummer son Alex. More detailed information can be found on the
Booking Bill
page, or you can contact him directly with questions or requests at

. He is also available as a pianist for non-ragtime events, including weddings, corporate functions, fundraisers, and more, performing classical, jazz and popular music. For more information on this aspect, please visit
TheIvoryTickler.com
. Tell 'em Bill sent you!
Bill Edwards has Performed Ragtime or Given Seminars One or More Times in the Following Venues:

Scott Joplin International Ragtime Festival, Sedalia, MO
West Coast Ragtime Festival, Sacramento, CA
World Championship of Old-Time Piano Playing, Peoria, IL
Eau Claire Ragtime Festival, Eau Claire, Wisconsin
Grand International Ragtime/Jasstime, Alexandria Bay, NY
Kennedy Center Millennium Stage, Washington, DC
Kennedy Center Christmas Show, Washington, DC
Carthage Ragtime Festival, Carthage, MO
Orange County Ragfest, Fullerton, CA
Hot Piano Society of New York, Brooklyn, NY
New Oxford Ragtime Festival, New Oxford, PA
Diamond Belle Saloon, Strater Hotel, Durango, CO
Durango Ragtime and Early Jazz Festival, Durango, CO
The Fish Market/Il Porto, Alexandria, VA
Northwest University, Maryville, MO
Summer Arts Festival, New York Mills, MN
Harley Owner's Group (H.O.G.) National Rally
Disneyland, Anaheim, CA
Radio Enthusiasts of Puget Sound, Seattle, WA

Zehnders Ragtime Festival, Frankenmuth, MI
Blind Boone Ragtime Festival, Columbia, MO
World Championship of Old-Time Piano Playing, Oxford, MS
Northern Virginia Ragtime Society, Falls Church, VA
Rose Leaf Classic Ragtime Society, Monrovia, CA
Iowa State Fair, Des Moines, IA
Scott Joplin House, St. Louis, MO
Maple Leaf Club, El Segundo, CA
Old Town Music Hall, El Segundo, CA
Greenfield Village Ragtime Street Fair, Dearborn, MI
Fort Lewis College, Durango, CO
Annual Ragtime Bash, Toronto, Ontario
Missouri State Fairgrounds Arena, Sedalia, MO
Potomac River Jazz Club Festival, Arlington, VA
Boot City Opry, Terra Haute, IN
Educational Broadcasts to Europe/South America
The Ragtime Machine with David Reffkin on KUSF
Jack Rummel's Ragtime America on KGNU
Syncopation Station with Vann Ford on KDHX

Plus numerous concert appearances in towns and cities across the United States.