My goal with these pages, which will be continually improved, is to present several aspects of life during the Ragtime era for a better feel of the culture surrounding the music. This will be done through music, photos, articles, quotes, profiles, and advertisements. If you have any requests for an aspect of the life that you'd like to see here (remembering that some topics are obviously a part of the life, but perhaps not presentable here if not done tastefully), please let me know. You can fill out the survey below or simply click on my head above. I'll return an answer to you within a few days if you leave a return method.
Thank you so much.

Most Images here have been restored by Bill Edwards, and all images are in the public domain (except where noted). However, these images are provided only for personal viewing use and reference. Unauthorized duplication or distributions of these proprietary files or associated sound recordings is a violation of copyright law. They are for personal use and enjoyment of the the viewer only.
Articles are updated now and then. Last Update
Right Click to download either images or sound files (in most browsers).
Interesting Figures of the Ragtime Era
The Castles in their most natural state.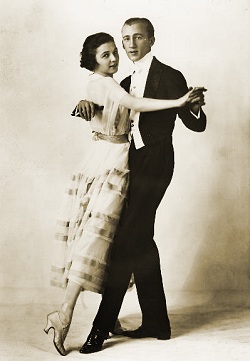 IRENE AND VERNON CASTLE
The bulk of instrumental music of the 1910s was designed for dancing, and indeed there was an explosion of both exhibition and participatory dancing starting around 1910 with several shocking crazes like the Turkey Trot or Grizzly Bear. William Vernon Blythe was actually vaudeville comedian when he met amateur dancer Irene Foote in 1910. She quickly brought out the dancer in him, and after a few missteps after going to Europe on a false premise of expectations, they quickly became the darlings of Paris as graceful exhibition dancers.
The Castle's fame preceded them on their return to New York in 1912, and the pair instantly became fleet-footed celebrities like no others, forecasting many public trends, unwanted ones in many cases, that would accompany celebrity into the 21st century. Everybody desired to look like them, dress like them, and dance like them. It was the latter that drove them to have their own school of sorts, where they would teach various steps in a long session, followed by an evening of delightful dancing for all. For private lessons they demanded and got exorbitant amounts. The Castles should also be credited with hiring some of the finest musicians in New York, who happened to be black, to provide the trendiest music. Paramount among them were the Clef Club founder James Reese Europe and his associate Ford Dabney, who together and separately composed the bulk of Castle-associated pieces, including one in 5/4 time called the Half and Half. The Castles were also responsible for demystifying the animal dances and simplifying them down to the One Step and the famous Fox Trot (which they did not invent but popularized), as well as maintaining several of their own unique routines which were for entertainment purposes only. They also inspired many future dancers, including the sister/brother act of Adele and Fred Astaire, the latter logically playing Vernon to Ginger Roger's Irene in a 1939 biopic (on which Irene was a consultant, though not a fan of Ginger's portrayal of her).
The magic came to a partial end during World War One when Vernon decided to enlist in his native England's Royal Flying Corps. He survived quite a bit of combat, only to be killed during a training exercise with a student pilot in Texas early in 1918. Irene was crushed by this incident, but went on to appear in some films of the 1920s, only mildy succesful in that endeavor as well as three subsequent marriages, but still retaining her celebrity and his last name for many years to come.
Forgetful artist Paul Gauguin at the keyboard!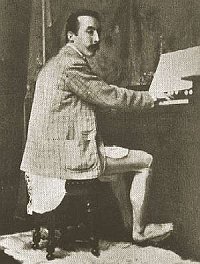 PAUL GAUGIN
Impressionism and Post Impressionism was very much alive during the ragtime era, with composers such as Claude Debussy and Maurice Ravel leading the charge in concurrence with such painters as Claude Monet and Paul Gauguin (1848-1904). Here we see the latter, who was not particularly eccentric, playing Claire de Loon(?) on a harmonium sans trousers (him, not the harmonium). Born Eugène Henri in Paris, and raised largely in Lima, Peru, Gauguin started out his career as a successful French stockbroker, and was able to support a wife and four children in grand style. But then he discovered painting (musicians can understand the lure of art in their lives), and after a few years of leading a double life as a painter and a stock magnate, abandoned finances for a perpetual lack thereof. Starting out as an impressionist in Brittany, he eventually became so poor that his wife had no choice but to return to her family with their children.
After a number of years under the influence of his impressionist peers, Gauguin turned away towards a less realistic style that he termed as "synthetism." He spent most of the rest of his life in debt (lost his pants, so to speak), and eventually ended up in Tahiti and the South Pacific painting the locals (on canvas, of course). He made at least one unsuccessful attempt at ending his life some three years before it actually happened naturally. I'm not sure what impression he was trying to achieve in this photograph!
Mata Hari, renowned for abilities other than spying.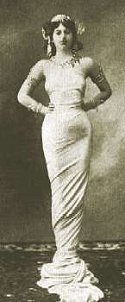 MATA HARI
Maybe you've heard of her, the "notorious" and "seductive" Mata Hari (1876-1917). Born Margaretha Zelle, she was at once a courtesan, mother, wife, exotic dancer (she obviously had the figure), and unwilling spy. This Dutch born woman makes Madonna look tame with her sexual appetite and exploits. Ultimately unlucky and unfulfilled in love, her initial fame came from her dancing days in Paris and Amsterdam, an art that she studied while living in Java. Using her stage name of Mata Hari (translated as Eye of the Morning), she proved to be quite the exhibitionist, and shed pretty much everything the law allowed (and beyond). Hari was considered by many to be originator of the striptease; at least in Europe. She evidently acquired a fetish for men in uniform, which served her well both sexually and as a means of obtaining information not normally revealed even under torture. This became particularly useful during World War One (Working title, "The Great War"), when the German consul in Amsterdam convinced her that her bountiful gift of seduction could be used to extract information they needed to lose the war (which they did). Although she had no intention of following through with this activity, to keep up the proper appearances she feigned an offer to the French to spy for them as well.
Eventually the Germans caught on and leaked information to the French, who nabbed her for espionage activities in 1917. At the age of 41, she was put in front of the firing squad. It has never been confirmed which side she actually spied for, and if she gave away any useful information to either country. I wonder about her last request, and if the squad members really had the heart to shoot this lovely Dutch girl caught in an unfortunate circumstance.
THOMAS EDISON
Where would we be without the pioneering work of
Thomas Alva Edison (1847-1931)
? There is not enough room here to list more than a handful of his patented inventions from him or his lab workers. However, he did not always get things quite right. Yes, he invented the phonograph - the
cylinder
phonograph, but
Emile Berliner's
disc system eventually won out, and the same system now uses laser.
Thomas Alva Edison contemplates surround sound.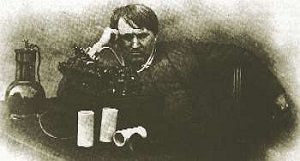 Even so, it was completed in a literal race, and he obtained the gramophone patent just hours before the next contender attempted to do the same. Edison lobbied to bring electrical power to the average American home, but vociferously opted for
Direct Current
(DC) as opposed to
George Westinghouse's
Alternating Current
(AC). Time has proven that the European adoption of Direct Current would have been a more prudent choice, but it was too late for us. Edison eventually adopted Westinghouse's Alternating Current system, but at the expense of its biggest proponent (Westinghouse), who was forced out of the empire he created. Still, most everything else major that Edison did has had a positive impact on our lives (as his surviving company, General Electric, likes to remind us).
One of Edison's brightest contributions to society, aside from the light bulb, was the motion picture. He produced the first scripted..., well, planned piece of motion picture film,
Fred Ott's Sneeze
, which is pretty much exactly what the title suggests. (And you thought
My Dinner with Andre
was limited in scope!) Edison also helped create the process of reinforcing concrete with steel, making skyscrapers possible. Yet his biggest invetion, although inadvertant, was his own celebrity. Edison never really had his pulse on public desires, only on what he thought they needed, and would have been a much wealthier man with more to reinvest had he actually figured out how to better market his inventions, much less retain focus on them long enough to perfect them. One of his most steadfast supporters and longtime friends was inventor
Henry Ford
. It is the Henry Ford [Museum] in Detroit that has reconstructed his Menlo Park invention factory, and well worth the visit. Edison was quoted as saying that "Genius is one percent inspiration and ninety-nine percent perspiration." Do you think he invented
Ban
or
Dial Soap
as well?!
Sarah Bernhardt in a DEEP Sleep.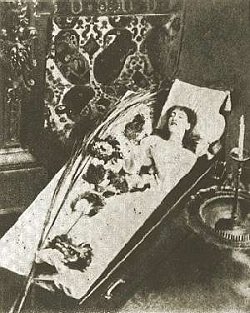 SARAH BERNHARDT
Yes. That IS a coffin that you see, and the occupant, Ms. Sarah Bernhardt (1844-1923), is only sleeping. This special bed speaks of only one of the eccentricities of this otherwise lovely and esteemed late 19th century French actress. She was born Rosine Bernard, the illegitimate daughter of a French prostitute. In spite of her reputation as a serious dramatic actress, Sarah started out in comic theatre and burlesque. She made her fame on the stages of Europe in the 1870s, and was soon in demand all over Europe and in this country. Her visits to America always created a stir, as she was considered royalty in an otherwise despicable line of work, the theatre.
Being primarily a stage actress, Ms. Bernhardt made several cylinders and discs of famous dialogue from various productions, including a few for
Thomas Edison
in the 1880's on an early visit to New York. She was also the only really big name that Edison signed to his Diamond Disk label in the mid 1910s, making a few fine recordings for him late in life. Sarah was one of the pioneer silent movie actresses, debuting as Hamlet... Yes,
as
Hamlet... in
Le Duel d'Hamlet
(1900), which was not a silent film, but actually had accompanying cylinders with dubbed dialogue. She went on to star in some ten or so motion pictures, including one of her at home in her daily life. In 1915, ten years after a serious injury, her right leg was amputated (P.T. Barnum unsuccesfully lobbied to obtain it for display), and she continued her career in spite of the need to use a clumsy prosthesis. Now, I pose this question: Do you bury someone who sleeps like this in a bed?
Harry Houdini - a chain gang unto himself!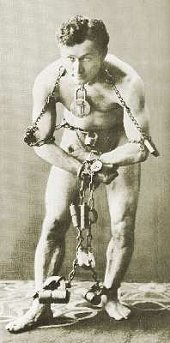 HARRY HOUDINI
Most remember Harry Houdini (1874-1926) as the magician and daring escape artist. But few know of one of his most treasured achievements, a pursuit which nearly cost him his life. Originally born Ehrich Weiss in Budapest, Hungary, Ehrich's family immigrated to Appleton, Wisconsin in 1878 when he was four years old, and was not born in there as some biographies insist. He excelled as an athlete while growing up, particularly in swimming and track. Practicing magic in his teens, Harry derived his stage name from the well known magician Robert Houdin. It was also during this time that he became very interested in the spirit world, and had a desire to be a medium.
After marrying young, Harry and his wife contrived the escape routines, in which he deftly shed handcuffs, straitjackets, and other restraining devices in full view of an audience, as well as escapes from jails. His secrets: Flexing his muscles while the restraints were put on, then relaxing them to escape. He was also able to keep a key or lock-picking device hidden in his hands or his hair while being body searched for the same. Even though some of these stunts put him in real peril, he did not back down from continuing to thrill the public with his feats of strength and prowess. After Harry's mother died, he became momentarily obsessed with contacting her through mediums. Eventually, Harry wrote a book exposing as fraud the entire concept of the spirit world, as well as another exposing several secrets of their supposed magic. One of his finest personal moment: In 1910, after several failed attempts and a near fatal crash, Houdini allegedly became the first person to successfully fly an airplane in Australia. After setting a few more flying records, he never flew again. Do you think that some famous politicians might have studied some of his escape techniques?
Anna Held helping(?) the
cause of bicycle safety!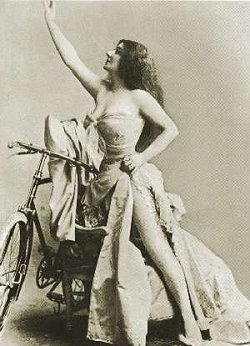 ANNA HELD
Guys? Do you see this? Can you believe...? OK. Hello? Can I have your attention back?!! The lovely and leggy lady in this early promotion for the modern bicycle is the famous singer, Anna Held (1873-1918). In show business through to the 1880s, stage shows were generally for men, but most were minstrel shows with humorous entertainment, featuring more in the way of racy jokes and blackface stereotypes than sexual content. The advent of vaudeville and burlesque in the 1890s changed this, and by the early part of the twentieth century, advertisers learned that sex sells. Thus Ms. Held's suggestive demeanor with the bicycle.
Yet another import from France, this breathtaking beauty won audiences with her voice and her figure. Her most captive audience was the soon-to-be brilliant showman Florenz Ziegfeld, who first imported her and to whom she was married (not formally but by New York common law) from 1897 to 1913. Seemingly born with a quirky and contrary personality, Anna was one of the first big draws of the Follies, which began in 1908. Flo helped exploit her for gain in part by inventing her exploits, such as bathing frequently in milk, which was very good for the dairy industry for a time. Collectors of sheet music are also familiar with her endorsement of many a popular song during the ragtime years, as she appeared on a variety of covers, perhaps third only to Sophie Tucker and Al Jolson. Sadly she died (some say of a broken heart) not long after her divorce from Ziegfeld. Anna was very good at flaunting the art of the risqué, as is evidenced by this (for that time) extremely revealing and mildly seductive photograph. What impact this photo had on bicycle popularity is not really known, but the impact on the men looking at it can certainly be imagined. And as for bicycle safety...?
Submit Additional Ideas/Corrections
Do you have any additional ideas for this section, or perhaps corrections or additions to something already here? I'll do my best to respond and accomodate you. Just send me your information below.
BEFORE YOU SUBMIT YOUR INFORMATION:
If you are not sure the article or idea is appropriate for this site, or have other questions about site administration or methods, PLEASE review my FAQ Response on content which contains answers to questions I get most often. It is is a case of a correction, please also site a reliable source that I may access for corroboration since accuracy is of utmost importance to my work. Remember that I can't respond to you without your e-mail address, and be CAREFUL to enter it CORRECTLY or no response will be forthcoming. This will serve only to frustrate both of us, as it has in the past with a select few.
---
The Ragtime Webring-Dedicated to Scott Joplin and the music of the Ragtime Era, this ring is an invaluable resource for jazz music lovers, musicians and historians. Sheet music, midi files, afro-american history, record collectors...

| Previous | Next | Random Site | Ring Hub | Add Your Ragtime Site |
There are lots of great ragtime recordings by top artists available from

Including some of my recommended favorites:
And don't miss these movies which include some ragtime music:
Or just search their site using the search engine below!