We will now move on to the topic of Digital Restoration.
PerfessorBill.com was created largely out of the initial need to restore and/or colorize some sheet music covers for use on CD recording covers as well as on the CD. Where an original cover was not available but a color picture of it was, and a monochrome (black and white) rendition of it existed in a folio, the goal was to colorize the monochrome rendition into a color one with a fairly high level of accuracy. In the case where the original cover was available, as well as the colorized copies from a folio, there were still many artifacts that did not exist when the music was new. These include tears, folds, water stains, smudges, uneven color fading, missing pieces and edges, store stamps, and the ever-present mark of the original or secondary owner (with all due respect and kudos to
Trebor Tichenor
and
"Ragtime Bob" Darch
who engaged in this practice but contributed ever so much to ragtime knowledge and awareness in the process). The goal was to digitally restore the covers to a state equal to or, in some cases, better than the original publication as it rolled off the presses.
DIGITAL restoration
means storage of the cover image in electronic format for electronic display or for a printout. Much in the way that CGI (Computer Generated Imagery) has enhanced the presentation of special effects in the world of cinema where these effects would otherwise be nearly impossible to duplicate physically, the application of CGI (Computer Generated Improvements) to art, photography, etc. has opened up a world of restoration possibilities that were previously either not available or exceedingly difficult to do physically. For starters, the original lithography plates for many of the more stunning covers, such as those from the
E.T. Paull catalog
, are either destroyed are long forgotten in some storage area. In many cases, time has simply taken a toll on the plates and they have deteriorated. Duplication of exact ink colors would also be an issue, even with today's available computer technology. In many other cases, such as small runs and vanity publications, the plates were destroyed through the process of recycling the metal. So digital restoration provides a venue that can be readily made available to anybody with a computer, or even through printouts, for the continued appreciation of an era when a great deal of work was put into the presentation of music through eye-catching cover art. While the value of this is controversial to some who consider it altering history or creating something that never quite existed, it is not designed to replace historical documents, only to provide an alternate perspective of them.
Without revealing too much about the actual proprietary processes and methodologies used to create restored images, we can still go through a basic overview of the tools used and view some before and after pictures that help to validate the end result. Before you enter into any repair or restoration process of any kind, an inventory needs to be done of both physical and mental needs. For this specific process, the tools necessary to do a good job include the following:
A relatively fast computer (500 mhz or more is adequate) with 256mb or more of memory (512 on Windows XP) since processing times on large images are largely constricted by memory.
A large high quality monitor (17" or greater) capable of high resolutions. Computer desktop video resolutions of 1280x1024 or greater tend to make detail work easier as more of the image can be seen at one time using a higher magnification. Additional software color adjustments in the drivers will help with proper color calibration. Newer flat-screen LCD monitors are particularly good for this type of work.
Lots of drive storage, particularly while working with the images (archiving them is a different matter). Some images can occupy up to 32 mb depending on scanned resolution and depth.
A high-resolution flatbed scanner capable of 600 dpi or better. Even if that resolution is not used, lower resolution scans made on these models tend to be more accurate due to higher-quality optics, motors and belts. USB 2.0 connectivity provides a much faster connection than parallel port models and does not occupy all of your computer's resources while scanning.
A well-lit work area is necessary, avoiding glare on the monitor but allowing for comparison of color between the original and the copy.
An accurate mouse that is set to a motion speed which allows accurate tracing without too much hand motion. This is a matter of personal ergonomics, but depending on the quantity of work to be done, repetitive motion injury possibilities should be considered. A pen or track ball may be used as an alternative, but both have drawbacks in this particular type of work. Mouse touch pads or IBM style nipple buttons such as those found on laptops and some full-size keyboards are simply not acceptable. Optical mice tend to have the highest degree of accuracy when used on a patterned surface and don't require constant cleaning.
Two or more varied graphics-manipulation programs. Experience dictates that certain programs do certain operations in much more logical ways, while lacking other needed functionality. There is no one tool for the job, but keeping most operations to two or three tools will minimize the learning curve and necessary processing time.
Infinite patience and creativity. This is a process requiring logic and knowledge to know how to proceed, as well as the creativity to imagine and fill in what may not be there at times, and a vision for the desired end-result. If medication is needed to keep the hand steady and/or the mind focused, it is adamantly recommended.
We will start with the process of restoring a color sheet music cover. The cover used here is for the famous Kerry Mills piece Red Wing. There were three copies available for this scan (shown below), so the first order of business was to find the one that would require the least work. This includes worn edges (prevalent on the center copy), poorly applied tape (a problem with both the center and right copies along the spine) and color fading (again on the center copy). Sometimes there are other minor differences. The signature of the artist, Hirt (located to the right of the ponytail below the title R), was less visible on two of the covers because it was printed with only yellow ink. The third cover (right), although slightly faded, had the signature in blue ink and contained the best continuity of the three. In some cases where more than one cover is available, both may be scanned and the best portions of each them used. This requires a great deal of extra effort to maintain color matching and rotation continuity, but it is occasionally the best route. In this case, the cover on the right was the primary source, and the cover on the left the secondary source, mostly due to better color continuity between the two.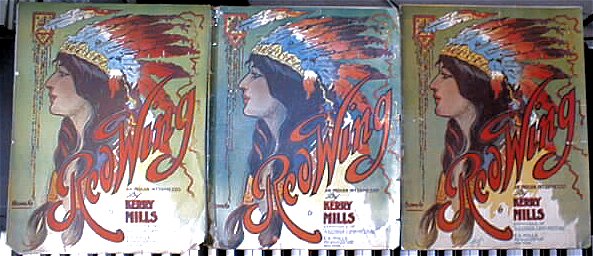 Once the piece has been selected and any necessary physical restoration done to the cover, it needs to be scanned into the computer. Since large format music is larger than standard scanner beds, and scanners that will accommodate it are significantly more expensive than most more-than-adequate standard-sized scanners, the cover obviously needs to be scanned in two parts. This is best done sideways (-90º or 270º rotation) with the spine aligned along the top/back of the scanner bed, and just a little bit of space between the top/bottom of the piece and the left/right edge of the scanner bed. A well repaired or good-condition spine is necessary to ease the alignment of the two scans, as it is the best possible guideline for squaring the piece. The resolution you scan at depends on the ultimate use of the image. Larger resolutions make for much larger file sizes and memory use, require a great deal more detail editing, and tend to be slower to work with. They are great for printing, however, as they are closer to print resolution and don't introduce anomalies like pixelization, stair-stepping or blurring. Lower resolutions often create banding or unwanted patterns due to differences in the dot patterns used in the printing process and those picked up by the scanner. They are insufficient for printing, but good for low or medium resolution video display. A good starting resolution is 150 dpi (dots per inch) for editing geared towards display or reduced-size printing, and 300 or more dpi for full-sized printing. If your scanner software does not provide a specific resolution or you are unsure, just pick the resolution for your printer (usually in a drop-down box) and scan at 50% size. A large scan can always be resized to a manageable resolution with little loss.
Make certain that at least two to three minutes have passed between pre-scan or test scan and your actual attempts, as light temperatures tend to change a bit during warm up, particularly as the scanning lamp ages. Select an area just a bit larger than the music for scanning, and maintain that area for both halves. If you can apply filters in advance, avoid anything that will blur or over-sharpen the image. Some scanners have an average setting which should work well if a filter is needed. Try to scan the second half as soon as possible after the first to maintain similar color temperature between the two. Make sure that the scanner lid is pressed down on the music to keep it flat, even with a book on the lid if necessary to maintain steady pressure. After the first half is completed, slide the music over to the other edge to finish the second half. Then, leave the music in place for the moment. Don't move it. You may need to do exactly that soon enough.
Now in the graphics editor that you scanned from, rotate each half-image 90º to the left (or -270º to the right) so it is upright. Average size for large format scanned at 150 dpi will be around 1300 pixels wide. You may resize this down for easier maneuverability, but an identical size needs to be used for both halves. Sizing each piece to 1000 pixels wide or so is a good working width. Using an adequately sized new blank image, copy and paste in the top half of the cover. Then select as much of the bottom half of the cover as you need and paste it into the new image, making certain you have enough viewing area to work with the line where the halves should match. For this purpose, I use the Paint program built into the operating system since it is fast and flexible, and it does not interfere with the program in which the original halves are loaded from the scanner. Keeping the lower half of the image selected, drag it around with the mouse until there is a definitive match between the halves. This is where discernment is very necessary. If one side matches and the other is off by a few pixels, note which side is off and by how much. Then delete the selected lower half. If the software from the graphics editor with the scanned images allows it, try to rotate the original image half in tenths or even hundredths of a degree, applying the sharpen filter each time, and undoing both rotation and scan if necessary to start a new one until there is a match. Otherwise, you will need to go back to the scanner and very carefully rotate the music in the correct direction just a little, projecting the difference as if you were looking up from the scanner bed, and redo the scan. Repeat the above process until the match is either perfect or can be easily manipulated through editing. THEN you may remove the music from the scanner. Note that graphics programs rotations in tenths of a degree may work well in some cases but poorly in others, and may create some new artifacts or matching anomalies. If you prefer this method over rescanning then use it as a viable alternative.
To do the actual match it is less than ideal to paste in the entire lower half, particularly since the edges of some scanners tend to read just a shade darker than the rest of the plate, in part because the music is lifted up slightly from the scanner bed onto the bevel around the glass. It is much more prudent to select most of the lower half, looking for an obvious point where minimum distortion might occur in a less-than-perfect match. This means avoiding a selection through the middle of a face, fancy design, or even small words whenever possible. For Red Wing, this meant a line beneath the top half of the "g" in the title, and well below the chin of the maiden. The end result will make this effort worthwhile. If you can barely tell, or even better if you can't find the line, then virtually nobody else will be able to. In some cases, there may be some minor color or contrast distortions. Only after you have had some experience with the basic process of matching images would you want to explore the capabilities of your image editor in this regard. Usually some delicate adjustments in hue, saturation or lightness will overcome these minor differences between halves. Once the halves are matched, select the entire image and move the upper left corner to a place which best aligns with the image frame. Then you may adjust the canvas size, either with the mouse (depending on the program) or through a menu-item adjustment, until the lower right corner is similarly aligned. At this point - SAVE YOUR WORK. If you want to resize the new image to a smaller resolution, now might be a good time to do it. However, the smaller the image, the less accurate the alterations will be, even though the work will go more quickly.
When scanning a monochrome image out of a folio, the above process is greatly simplified since it can usually be done in one take, allowing for adjustments in alignment. Most scanners allow for a grayscale scan, which means the image is translated to a monochrome palette. This will ultimately create better information to work with if any attempt is to be made to colorize either the whole image or portions of it. If your scanner software does not provide for this, many graphics editors can do a quick grayscale conversion. Since 8-bit grayscale consists of 256 shades of gray from white to black, it also makes for smaller file sizes than 24-bit full color images.
Once you have your completed image, you will possibly want to clean it up, removing all the little scars and artifacts that time and use have wrought. You will also want to do this with a grayscale image, as it is much easier to colorize an edited image than edit the colorized image and retain the proper color blend. The process of cleanup is the methodology that I prefer not to reveal at this juncture as much of it is proprietary and falls in with specific skill sets and tool modifications. However, I will tell you that there are many possible methods for editing out or covering up artifacts without changing the nature of the original cover. I use three different editors with several different capabilities to work through this process, and even with experience, extreme patience and diligence with respect to detail are required. One hint, if the program you are using has only three or so steps of undo, you may want to save at specific stopping points so as to have something to recover if your editing effects go awry. You may also need to work with mouse calibration, and even mouse methodology in order to maintain control over your work. What exactly is removed or added is up to you, but if preservation is the desired result, it should be done with the utmost of accuracy as best as can be determined. The copy of Red Wing that I used had ragged edges, some tape on the left side, a fold down part of the right side, a small bit of tape damage, darkened edges, and faded color. A little reconstruction work was required where information was missing. Compare the before and after results below to see what has been altered and what has been retained.