Economic Growth:
It is rare that the growth of one industry does not cross over or trickle down into others. The burgeoning world of music publishing and performance in the early 20th century provides a vivid example of this, and suggests a unique business paradigm as well. It was a fortuitous opportunity when initial demand was growing well beyond supply, but the changeover in the American economy was helping create a supply of workers who soon fueled the demand. As they are involved in a diverse number of industries in varying capacities, we will try to break down the distribution of supply in terms of each product, noting crossover where it exists. While not every minute facet of the great network that supported popular music creation and performance can be explored in this space, the general idea of how far reaching it actually was will be evident.
---
SHEET MUSIC:
Existing publishers started working at a furious pace in the late 1890s to keep up with increasing sales, and many new publishing firms were created as well, although many were ultimately short-lived. While older established publishing houses were able to branch out into many divisions representing various genres of music, many more focused on trends or other market niches. Among these were vanity publishers, who would do a one time printing of nearly anybody's piece for a fee. For a great deal of the Ragtime era (1897 to 1917), most composers of rags, songs, waltzes, etc. sold their pieces outright to a publisher. While Scott Joplin did secure a royalty for the sale of many of his pieces, the most notable being his
Maple Leaf Rag
, this was a rare situation for its time. It was harder for a black composer to obtain royalties, although many white composers faced the same issue. Their instant payoff for selling a piece was quickly absorbed into the local economy, which motivated them to write even more. In many cases the publisher would reap benefits hundreds of times of what the purchase cost them, while the musician still had to scramble to make a living. Therefore, the publishers had the capital they needed for expansion and promotion.
However, to meet the increasing demand for sheet music, it was the expansion that was a large key to fueling the economy.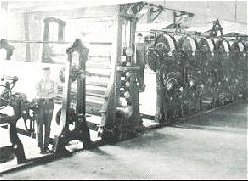 Paper mills, fed by the lumber industry, had to increase production. This also applied to paper used for newspapers as the public was becoming more literate and reading more. But the paper used for sheet music had to be much more durable, and therefore created a higher profit margin for the mills, as well as a need for more employees. This demand also applied to the ink producers, which was fed by both farming and petroleum, an industry that was, itself, about to experience an unprecedented boom. Then there was the metal needed for the printing plates, at least 50 times more in 1904 than was needed in 1894. The printing presses were always in need of menial workers who could run the machinery, but musical experience was required to produce the note typesetting for the plates. The number of employed artists in the United States rose dramatically as publishers started to employ colorful and catchy artwork for their covers. Some of the top artists could command as much or more for their covers as the composer did for the contents. While many publishers were still regional, and a number of them only sold their product in a company store that was often on the same premises as the printing press, the printed music still needed to be transported to other businesses that would sell it. The railroad industry as well as early truck drivers certainly benefited from this.
---
SALES AND DISTRIBUTION: Printing the music was one thing. However, getting it into the stores and eventually into the hands of the eager buying public was quite another. One position that had existed in many publishing house and was now gaining prominence was that of the salesman. But the parameters of that job were changing as well. Whereas in the past it was often a musician that took this position (a necessity to demonstrate songs), the qualifications for such a position were transitioning towards those with a higher balance of business acumen. And while music stores were opening at a record rate in the early 1900s, non-music stores, such as Woolworth's, were now taking on popular sheet music as part of their cornucopia of dry goods. This often meant employment of a pianist to demonstrate songs or rags right in the store. Even though there were a large number of male pianists in the United States, they were often working in other day jobs, or not available or amenable to such a position. As a result, it was the female, who was most often the member of the American family to have had some piano training, who filled these positions. This was a new direction in American culture, as previously most women were either homemakers or worked in sweatshop environments. Now those that were pianists could be independent wage earners (although still extremely disparate from men's pay scales) who could also shine as one person rather than as part of a group of mass laborers.
Another increasingly effective mode of distribution and promotion was that of celebrity endorsement.
While this became much more prevalent in the 1910s with dominant personalities such as
Sophie Tucker
and
Al Jolson
, the temporary inclusion of a popular song into one of the dinner or evening shows at a local theater was considered a great sales pitch. This was often reinforced with copies of the music for sale in the lobby of the theater after the performance. The house often got some of the take from sales. There were also write-ups in the newspapers from time to time, which were considered free publicity, regardless of the nature of the review. So this sold more papers, induced the venue owners to get the best possible shows within their budget, employed more people to pitch and sell the songs, and created a supply of new entertainment for a demanding public. The growth of theaters and vaudeville venues grew exponentially between 1895 and 1910, driving many local economies where the capital was sorely needed.
Other marketing methods to get music into homes cannot be ignored. The publication of music-oriented magazines, both popular and classical, as well as distribution of select pieces such as
Hello Ma Baby
as Sunday newspaper supplements went a long way to putting ragtime in as many homes as possible. Catalogs of music libraries were routinely sent out, some via a parcel post spread, usually for free. General magazines also sometimes had supplements, and most had ads for music with some catchy samples, or for piano rolls and hardware to play them, much in the way that televisions would dominate magazines of the 1950s and 1960s. Even simple locales like Woolworths had music departments and demonstrators to staff them, and in these ways popular music helped propogate itself into its own popularity, albeit with a lot more effort than by radio, which would eventually be the most viable and widespread conduit.
---
PIANOS:
In addition to the burgeoning sheet music industry, other facets of the economy saw clear gains due to renewed consumer confidence by 1898, and the desire to bring broader entertainment and leisure into the American home. Of course to play music in the home, a required piece of furniture was the piano.
Sales of all manner of pianos soared consistently over the ensuing three decades, not to peak until 1927. This meant more business for lumber and steel mills, as well as trained technicians, salesmen, piano instructors, and those who wrote courses for playing popular piano styles, such as Chicago entrepreneur
Axel Christenson
. But the demographics of sales and the continuing desire to improve sounds brought changes to the construction of the piano as well. By 1918, the international standard pitch of A=435 cycles had been raised to A=440. This added up to two tons of tension to a tuned instrument, necessitating changes in pinblock design, frame strength, and the size of the cast iron plate. The short-lived square grand piano did not facilitate these changes, and all but disappeared from the marketplace by 1900. But uprights were made in large quantities, and were soon made as readily available to any citizen as looking in the Sears catalog and buying one on time. It was a combination of automobile and piano sales that helped foster the system of consumer credit that is now a staple of society.
But many consumers had neither the time nor the inclination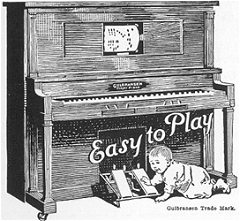 to learn how to play the piano, or at least where they were comfortable with their abilities. Knowing this, several attempts had been made since the 1850s to produce an automated piano. By 1900 a few push-up 65 note roll models were available that would actually press down on the piano keys as they were pumped. Within four years, pianos with internal player devices were available. Before the decade was out, many instruments were electrified, played 80 notes, and even allowed the introduction of expression into a performance. This concept grew into devices that played a variety of percussion, wind and string instruments in addition to the piano, all from a programmed roll. It was a boon for the consumer who desired music in the home without the requisite effort and the business owner who wanted low-cost entertainment during daytime hours. A whole new industry creating vacuum controlled pneumatic units for placement in pianos that could be easily modified by nearly any existing manufacturer was born, and it thrived for a quarter of a century. And of course there was always a need for software, so musicians often found extra employment arranging piano rolls. The crossover into phonograph records of piano-oriented music did not really occur until the early 1920s.
For more detailed information on this topic please view my Player Piano article on this site.
---
ALCOHOL:
While many Americans did consume some alcohol at home, it was often produced by them or a neighbor in a still. Packaging of liquor for take-out consumption was still rather expensive, and the liquor industry was largely unregulated as well. So by 1901, many more people were inclined to participate in social drinking. In order to bring customers into a drinking or eating establishment in the days before "Happy Hours" were common, entertainment was utilized as a major draw. Between watering down of drinks and pricing alcohol at inflated levels, profit margins on liquor sales were appreciable. In addition, more young people were leaving the farms for careers in the city, and the average age of the drinking population was also decreasing. It became a challenge for the distilleries to keep up with the steadily increasing demand. This trickled down to farmers who were doing great business in grains and corn. It also led to some of the first large buyouts of family farms by companies such as
Anheuser Busch
and
Adolph Coors
, creating an early version of the corporate farm, a trend that became more prevalent in the 1950s with the advent of the supermarket.
Ragtime and liquor went together, and this combination was an experience afforded to the many millions of visitors to the 1904 Louisiana Purchase Exposition, also known as the 1904 World's Fair, with its many venues offering both. The musicians themselves imbibed in more than just alcohol, acquiring dependencies on some of the variety of opiates readily available before the advent of the U.S. Food and Drug Administration. And the musicians often introduced select members of their audiences to drugs as well. Once these substances were made illegal, a black market was formed where these narcotics were still available, but at inflated prices. Addictions being what they are, business was good and the economy was still driven from within this diabolical cycle. In fact, it was the abuse and addiction of alcohol that contributed to one of the underground's greatest economic boons - the Prohibition of Alcohol in the United States ratified in 1920 in the form of the 18th amendment to the Constitution. Opium dens were still in operation, but now the Speakeasy was added to the mix, and many musicians could command even higher wages working in these venues. In addition, addiction and detox units were proliferating by necessity in American hospitals, creating more trained staff positions as well as state and local government subsidies.
For additional information on prohibition you may read a detailed article at http://www.drugtext.org/reports/nc/nc2a.htm.
---
OTHER RECREATION: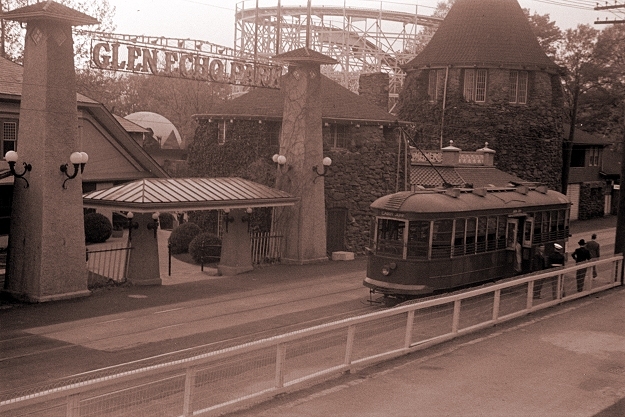 Whereas as recreation had not been a huge business in pre-Ragtime years, suddenly Americans were getting a taste for it and demanding more. Entirely new forms of entertainment started to emerge. Beer gardens, some of which had featured mild roller coasters known as "scenic railways," started promoting family trips to their parks on the weekends. By inventing and adding new ride attractions, ranging from Carousels and Ferris Wheels to Steeplechase rides, they started drawing a younger America that had some disposable income for the first time. They also tended to hire young adults to operate these rides for what evolved into the traditional Amusement Park. While the railroads were waning in popularity, mass transit in the form of trolley cars was rapidly gaining favor, and many cities had a trolley line that ended at one of these establishments, which were often designated Trolley Parks. Musical entertainment was also prevalent in this business, utilizing everyone from dancers to calliope players. Where there was virtually no industry in this regard in 1890, it was thriving substantially before two decades had passed.
Around the same time as the coin operated mechanical music devices were placed in public venues, so were machines that when cranked would spin a series of small photographs around in a specific sequence giving the illusion of motion. These nickelodeon devices were the precursor of the movie theater, a business that did not exist in 1900, but for which many grand palaces had been constructed before 1920. And with those movie palaces there was a need, in many cases driven by an edict from the production companies, for music to accompany the films. Elaborate multi-keyboard mega-stop organs were routinely placed in the best theaters throughout the country, and a musician who knew how to use these devices properly and displayed an innate ability to effectively enhance the screen action with sound effects and music could command princely sums for the run of a movie, or ever permanently. Even for a nickel or dime admission, the construction and operation of film venues was a lucrative business up through the late 1920s.
It has been often noted that carnal recreation has never gone out of style. That being said, the "
red light
" districts (red lights were literally used to highlight the locations) and houses of prostitution started doing better business than ever with the advent of Ragtime. Many madams saw to it that their establishments were lavishly decorated, and always had a Ragtime pianist at the ready for the girls to come down and do their dance for potential customers. There have been a couple of stories [unsubstatiated but intriguing] that the very name of Ragtime comes from pianists in the back room playing for the girls temporarily off duty because it was their "rag time." Many cities zoned specific areas where prostitution was either legal or simply tolerated. The most well known of these was the Storyville district in New Orleans, Louisiana. Others had some level of fame, including 12th Street in Dallas, Texas and, coincidentally, in Kansas City, Missouri, one or both the sly reference of
Euday Bowman's
long-lasting
Twelfth Street Rag
. There was much crossover between the brothels and alcohol venues providing musical entertainment, and much redistribution of wealth as well. The owners did, after all, pay taxes, occasionally more than was required by neighboring businesses. As with alcohol, this was an aspect of the economy that started to suffer from its own success and excess, and idiosyncratic changes in public morality saw the houses and the surrounding districts shut down around the advent of Prohibition in 1920. This moral turn is ironic in the face of the flirtatious and sexually promiscuous attitudes of the 1920s. The loss of controlled prostitution actually turned out to be a blow to many local economies as the professionals were either out on their own now or found some form of representation. In such a situation, they were less accountable for tax dollars and could more easily retain a larger portion of their income, often keeping it out of circulation.