RagPiano.com - Guide to Ragtime and Old-Time Piano
What Are Ragtime and Old-Time Music?
An Essay on Ragtime and Old-Time Definitions and Styles
by Bill Edwards:
Contents Copyright ©2000/2008/2015 by William G. Edwards
RAGTIME DEFINITION
Several attempts have been made to define Ragtime as a descriptive noun or pronoun, and occasionally as a verb. Actually, the definitions are pretty broad, and it is more likely that the compendium of information contained on this page may provide a more comprehensive grasp of what the definition actually entails. Most reference sources use something along this line, which is similar to what Trebor Tichenor and Dave Jasen included in Rags and Ragtime, which was first published in 1978:
Ragtime n (râg-tím)
A form of ethnic piano music from the early 20th century that is indigenous to the United States, and is characterized by a syncopated melody over a steady bass and chord line constituting a duple rhythm (two or a multiple of two beats per measure).
As in Piano Ragtime, which is a genre of syncopated music based on a march form that usually consists of three or four repeated distinct sixteen measure sections in a tonic and subdominant keys in the sectional form of A A B B A C C D D or a variation thereof.
A genre of popular music based on marches and Afro-American rhythms that was prevalent in the early 20th century.
Obviously this does not really encapsulate the broader spectrum of what Ragtime really is. For starters, there are many ways to syncopate melodies, as well as a variety of left hand patterns. The accepted traditional template of piano rag format was contorted by nearly everybody including
Scott Joplin
. Also, cakewalks, many marches, intermezzos, two-steps, one-steps, blues, and songs have often been included as part of the genre, which was inclusive of and evolved from all of them. I have long been fascinated by the wide variety of music that has come from a structured form that is actually somewhat constraining. A closer look requires, and has warranted many books on these topics. I will refer you to those sources, all of which are found on my
Books on Ragtime
page rather than try to further pinpoint any definition here. Major points are touched on below.
OLD-TIME DEFINITION
Although there will be
less emphasis on Old-Time music in this essay, I will still attempt to put in perspective what it entails and its relationship to Ragtime. Old-time (or oldtime) is a term that has seen increasing use over the past four decades. There is even a piano contest held each Memorial Day weekend in Peoria, Illinois, which is known as the
World Championship of Old-Time Piano Playing
. Since I had a part, many years ago, in writing their definition of what the content of Old-Time Piano music is, I will include it here as follows:
Old-time Piano n (öld-tím pee-âh-nö)
The style of piano playing found primarily in public venues of performance between 1890 and 1929, particularly in drinking establishments and at Ragtime competitions, consisting of popular songs of that era, including traditional jazz, Ragtime, and early stride piano--but excluding chord progressions more commonly found after 1930.
Music idiomatic to piano performance and popular dance of the United States from the 1890s to the 1920s.
Definition initially created by Bill Edwards and taken from the official combined rules of the World Championship of Old-time Piano Playing Contest, Peoria, Illinois.
In short, old-time piano is inclusive of Piano Rags, and broadens to include similar forms of music, primarily popular song, that are from the Ragtime era. The focus of this page is on the playing of instrumental Piano Ragtime music forms. However, most of what is below can easily be applied to popular songs as much it can to piano rags and blues. I suggest that you start by concentrating on the Ragtime style with piano rags, which by their composed nature already contain many of the inherent Ragtime elements that songs do not contain. Once you have developed a style that works for you in this idiom, applying it to or recognizing it in popular songs will come quite naturally.
SYNCOPATION
It is generally agreed
that Ragtime is a form of syncopated music. While Ragtime does not have an exclusive franchise on syncopation
Two forms of Duple Meter showing
Oom Pah Oom Pah and Oom Pah Pah Oom.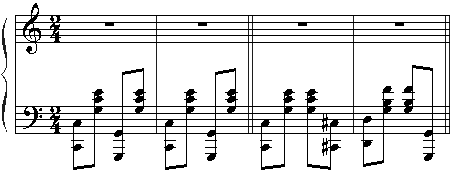 (which is loosely defined as a note within a phrase with an emphasis that is not on a primary beat of a measure), it did become one of the foundations for jazz, much of which is now syncopated, improvised and/or free form. In Ragtime piano music, measures are incremented into four ticks. In 2/4 time each tick represents an eighth note, while in 4/4 time a tick is equal to a quarter note. The lower bass notes typically fall on the first and third ticks of each measure, alternating with chords on the second and fourth ticks. This Oom Pah Oom Pah pattern constitutes what is known as duple meter. The Oom Pah is directly translated from the German vernacular for the sound of a tuba with a chord instrument, which in the case of Ragtime is most often regarded as the banjo. Some rags alter left hand patterns and use the lower tuba bass on the first and fourth ticks and the banjo chords on the second and third (Oom Pah Pah Oom), such as the opening measures of the
Maple Leaf Rag
(right). Overall, in the strictest definition of duple meter the left hand patterns are not syncopated. In looser uses there are exceptions to this, but in general the overall emphasis is on the march time pattern foundation.
The very notion of syncopation, one of the major elements that sets Ragtime apart from other counterparts of the early 1900s, is hard for some to grasp, yet actually a natural application of spoken rhythms in some regards. For example, the phrase "go for a walk" would constitute a straight rhythm the way most people say it. Try it slowly and deliberately - "go - for - a - walk" - and you have a march rhythm where each word, or note, is on a beat. Now, try a familiar parental phrase, "take out the garbage." It is hard to not syncopate this phrase, which equates to a typical cakewalk rhythm. The pause after "take out," necessary to enunciate the t in out, is what causes that hesitation. "Out" and "the" would fall on off beats, and would constitute the first half of a syncopated phrase, the second half being "garbage" which falls on the natural beat. Clap to this phrase and it should come out (counting in four) 1 & _ & 3 _ 4 _. While something like syncopation may seem commonplace in today's music forms, particularly in jazz, the concept was quite unique to listeners in the early 20th century who were used to emphasis on beats. For those trying to keep rhythm with their bodies, the syncopation might be viewed as an unexpected event outside of the parameters of the beat, which might cause a little extra movement to compensate for it. The bodily sensations this caused were considered unnatural and even demonic by many who didn't know what to make of it.
While the left hand provides the rhythmic foundation, the melodic notes or right hand patterns usually contain the syncopation, or off tick patterns. When a note is played between ticks and held over a tick mark,
thus emphasizing that note, this creates the syncopation for that phrase. In the first theme of
The Entertainer
(after the introduction - pictured left), the C above middle C is first played between the first and second ticks, then on the third tick, then between the fourth tick and the bar line, held for the length of at least an eighth note all three times (
Click to hear the example
). It is this contrast or deviation from synchronization between the left hand and right hand patterns that creates syncopation. It was, in part, this notion of the hands not playing everything in homophonic synchronization that lent itself to the idea that it sounded "ragged" to traditionally tuned ears, so something played in this fashion was eventually deemed ragged-time or Ragtime (although the actual origin of the word is more likely derived from the dances or parties called "rags" that were held from the 1880s forward, and at which this musical style was eventually introduced).
Another method of syncopation is often called the secondary rag or three over four pattern, where a repeated pattern of three notes is played over the four tick left hand duple pattern. When the highest note is the last of the three, such as in the case of a broken triad played upwards, it creates the equivalent of the same emphasis found in
The Entertainer
. This is not true syncopation, which usually varies between shorter and longer notes, the longer ones held over ticks, but it creates an illusion of the same principle. A good example of this is the
Black and White Rag
(
Click for example
). The end effect in both cases can be called counterpoint. Good syncopated melodies or motifs often extend over a number of measures. An excellent example of this is the
A
section of
Scott Joplin's
Eugenia
.
Part of George Botsford's Black and White Rag showing 3 over 4 syncopation.
The red accents are the syncopated beats, while the green ones are on a beat.

FORMAT
The accepted template for the classic rag format
is a makeup of four distinct sections, each sixteen measures in length, the first two in the tonic key modulating up a fourth to the sub-dominant for the final strains, and with repeats in the form of
A A B B A [key change] C C D D
. This template echoes a modification of the general form of marches dating back to the 1850s (most often
A A B B C Interlude C Interlude C
), but there are many variations on it as well. Some composers occasionally went over sixteen measures in a single section, such as the
C
section of
Scott Joplin's
Magnetic Rag
, which also breaks convention by returning to the A section only after having progressed through
B, C,
and
D
. Rags that contain thirty-two bar sections usually intend the second sixteen bars as a variation on the first sixteen, and do not indicate a repeat. An example of this, one that does call for a rare repeat, is the
B
section of
Albert F. Marzian's
The Lion Tamer
, which contains a well-defined improvisation of itself in the second half. Some later rags contained a blues section of twelve bars, while conversely, a number of Ragtime era blues pieces had a sixteen bar section in them, such as
W.C. Handy's
The Memphis Blues
.
Knock-off popular rags that hail from Tin Pan Alley usually consist of three sections, and if a fourth exists it is more often than not the
B
section modulated into the new key. Some classic rags occasionally used this format, such as
James Scott's
Efficiency Rag
. Yet another exception to the basic rag format is when the rag remains in the same key signature throughout, or utilizes the relative major/minor relationship of the key signature. An example of the former is
May Aufderheide's
The Thriller
. A creative use of shifting between the relative major and minor is exhibited in
Henry Lodge's
Temptation Rag
.
The vast majority of piano rags either have repeat signs notated for most of the sections or have each section written out as a repeat. As is evidenced by personal accounts of Ragtime-era players, some of the recorded performances from that time, and the number of rags that have written variations in lieu of repeats, such as
Adaline Shepherd's
Pickles and Peppers
, the repeat serves more of a function than simply adding to the length of performance. It encourages, and even suggests improvisation, which allows the performer to not only convey the composer's intent, but to add style of their own to the performance. Oftentimes the repeat includes an indication that the right hand should be played 8va, or an octave higher. The expected presence of the repeat is important to note since there are a number of poorly engraved rags for which the repeats are unclear. Some use a more classical paradigm, send the user back to a segno or the beginning of the piece with a Fine or ending after one of the earlier sections.
Even more important are the number of rags in which a repeat may extend over two sections (such as the Interlude and D sections of
Joseph Lamb's
Champagne Rag
), and those in which a repeat is intentionally left out for reasons of balance, or to avoid an awkward ending. While such variations should not be summarily ignored, a creative performer can often work around them. One of the constants in piano Ragtime (with almost no exception) is that when a reiteration of the A section follows the B section, it does not have repeat signs. Unlike the conventions of musical forms that preceded Ragtime, the improvisation is tacitly encouraged, and even some of the more structured classical composers such as
J.S. Bach
and
Wolfgang Amadeus Mozart
were much more likely to improvise during performance than the plethora of interpreters of their works that followed them. Also, if you really think about it, composition is a form of improvisation or evolution, usually building on known musical styles or formats, and often creating a new one. Without improvisation there would be little in the way of original composition.
PHRASING
Phrasing, or the division of melodic lines, can have some impact on how the rag is classified as well as the difficulty of performance. Most phrasing can be defined in two, four, or eight measure segments.
Two Measure Phrasing: The majority of Tin Pan Alley or popular rags could be defined as having two measure phrases, where in some sections the same idea is utilized two measures at a time and repeated often. There is no direct continuity to link the phrases together to create a longer one. The main body of Euday Bowman's 12th Street Rag is a rather simplistic representation of this. Every two measures, the underlying chord changes, but the melody remains the same. Since there is no held syncopation over the bar line between the second and third measures, or the fourth and fifth measures, etc., the phrases are clearly defined as two measures. Classic Ragtime composer James Scott generally favored two measure phrases. His phrases were defined by call and response patterns. His Frog Legs Rag contains two measure phrases for most of the A section, and the D section consists primarily of call and response or echo phrases, where a one measure theme is repeated an octave higher.
Four Measure Phrasing: In many of the more classic and even popular rags for which, perhaps, a little extra thought was applied to the melodic themes, four measure phrases are more prevalent. In many cases, the melodic content of the line is carried over the bar line of the second to third measure in each theme, even if the basic idea is repeated. In other cases, the entire four measure phrase is a unique and complete melodic line. Scott Joplin used four measure phrasing in a number of his rags and marches. Good examples include the A section of Wall Street Rag and the C section or Trio of most of his rags, for which Fig Leaf Rag and Gladiolus Rag present excellent studies.
Eight Measure Phrasing: The rarest of all, eight measure phrases require careful craftsmanship and strong melodic content so they don't collapse at any point in their length. This length of phrase was rarely found outside of the Classic Ragtime format. The best examples of these phrases are found largely in the rags of Joseph Lamb who had a true gift for extended melodies with underlying support provided by harmonic content. Two wonderful examples are the A section of American Beauty Rag and the A section of most of Top Liner Rag, both among the finest piano rags ever written. Listen for the general slope and curvature of the melody, as well as the contrasting but cooperating syncopations in both hands. Rags with eight measure phrases are much harder to memorize than others, but well worth the effort.
STYLE
Ragtime style is a broad concept, but can be encapsulated to some extent when more minute factors are ignored. While the following styles are not all-inclusive, they should be widely representative just the same.
RAGTIME OFFSPRING
What about the kids? To paraphrase Max Morath, if syncopated music is considered to be Ragtime, then what nowadays isn't Ragtime? In a sense, it is the grandfather or even the Genesis point, if you will, of popular music forms around the world today linked to America. Direct descendants include the broad genre of Jazz, which was originally instrumental Ragtime with improvised sections; Country and Western music, some of which was composed by late Ragtime writers; Bluegrass, which evolved in part from the synthesis of Ragtime picked on the guitar, banjo, or similar stringed instruments; and Popular Song Forms which were culled from early syncopated Ragtime era songs. The Blues could be considered a sibling to Ragtime, since the two essentially evolved along nearly the same time line and from a similar heritage.
To look at it from a metaphorical point of view (without assuming absolutes), think of the beginning of Ragtime as a giant funnel of sorts. Into the top of this funnel are deposited the marches of Eastern Europe and Russia, the dances of Slavik and Norman countries like Italy and France, the jigs of Ireland (which contributed to black jig dances in the South), smaller classical forms of the Western world such as sonatas and intermezzos, the rhythms of Africa and Latin American countries, the folk strains of the rural United States, and the ring shouts or spirituals that evolved in the fields of the American South during and after the time of slavery. You can find all of these elements directly in Ragtime music in one or another form. Now on the lower side of the funnel consider all the variations on Ragtime that become the popular music forms we know around the world today. They span many genres, but most owe their heritage to the popularity and musical traits of Ragtime piano. Alongside or even directly inside that funnel is also a string which is little changed throughout the same time period. That would be the blues, which although they have been infused into a number of music forms starting with Ragtime and continuing, are essentially the same basic form that the started out as in the late 19th century. That is, in part, why the evolution of Ragtime in America was so important in terms of music history.
Since the basic idea of jazz in the beginning was to (at first) retain the multi-part Ragtime format or the basic blues progression, but allow for clear improvisation of a repeated strain, the evolution of modern jazz through swing, bop, and later more free-form styles, can readily be traced to either
Maple Leaf Rag
or
Memphis Blues
. In fact, there is a direct lineage that runs from
Memphis Blues
or
Dallas Blues
to the legendary
West End Blues
to
Crossroads
to
In the Mood
to
Rock Around the Clock
to
The Beatles'
Birthday
to
Brian Setzer's
Rock This Town
to any number of rock or jazz/blues pieces by artists ranging from
Eric Clapton
or
Adam Levine
or
Bonnie Raitt
to
Wynton Marsalis
or
Dave Grusin
or even scores by
Danny Elfman
or
John Williams
. The most obvious example of the latter is his famous
Cantina Music
piece used in the original
Star Wars
film of 1977. That is quite a wide range of artists and styles linked to a verifiable ancestry.
It can also be successfully argued that Ragtime and blues, along with many of their evolved forms, can be classified in some sense as "World Music." The forensic rationale for this comes through the makeup of the genres from the international influences discussed earlier. The adoption and continued performance of Ragtime in the 21st century (as conveyed to the author by many fans) in Canada, the United Kingdom, Europe, South Africa, Israel, Egypt, Russia, Japan, and particularly in Australia, indicates that it is also a "world-adopted" music with a growing heritage and database of new compositions as well. While some may argue that many innovations in popular music have been realized outside of North America, something that this author fully supports as likely, they are working with a form that started in the U.S. to begin with. Even the great experimental innovators from Britain that revolutionized music in general in the 1960s, Paul McCartney and John Lennon, continually cited their muse and early influences as having come from records cut in the U.S. by American Rhythm and Blues musicians.
So just as it has become more difficult to ascertain what constitutes an American car (the author's P.T. Cruisers were assembled in Mexico) or a Japanese auto (like the Hondas made in Ohio or Toyotas in California), it has become more difficult to pinpoint contemporary music forms as purely American, even if they started here. It was, however, within the "great melting pot" of late 19th century North America that the influences from around the globe melted into a confluence that became a new starting point for musical heritage in the popular vein. And they called it Ragtime!